Bayswater City: Into 2016
Report by Jonathan Cook
Infographic: Adrian Petrilli
They have been the cream of the crop since before the dawn of the PlayStation 4 National Premier Leagues, and Bayswater City have no intention of letting slip their domination of the WA competition.

Coach Chris Coyne goes into the season now attuned to the particular pressure of expectation that comes with the Bayswater job – every other team wants to beat them and every Bayswater fan, official and player expects to win.
SCROLL DOWN FOR SQUAD

Coyne is more than comfortable at the helm.

"I wouldn't start any season without saying we're going to try and win everything and we're going to go out there and give our best," Coyne said.

"Whether it happens or not, who knows? It's premature to look in the crystal ball and say we're going to do this, that and the other. But it's not going to stop us from trying.

"Yes, we're going to try and emulate what we have in seasons past but anything can happen. We'll set the bar higher than last year and we'll have a good crack at it."

While some coaches might be tempted to play down their chances, with talk of pre-season disruptions, the loss of big-name players or changed circumstances, Coyne has a warning for rivals looking to usurp Bayswater as top dog.

"I think we're brighter and a bit more dynamic all over the pitch," he said. "We look quick all over the pitch. We've got good legs everywhere.

"We've recruited well. We've lost a couple but we've replaced them with players of similar or better abilities and better mentality.

"Body for body we're in a better position, it's just a matter of me getting them to gel."

Bayswater have lost the services of Danny Dixon and Borbor Sam, while Adam Tong, who joined City midway through last season, has joined Inglewood United.

But former Sorrento attacker Jason Mirco has swapped sky blue for a darker shade, and Nathan Costello (Perth Glory), Jack Allen (Floreat Athena) and Andrija Jukic (Inglewood United) are also on board.

Bayswater have retained an impressive central core with goalkeeper Devon Spence well protected by Trent Kay, Jamie Coyne and Todd Howarth, and at the sharp end are the attacking talents of David Heagney and last season's Golden Boot winner Gustavo Giron Marulanda.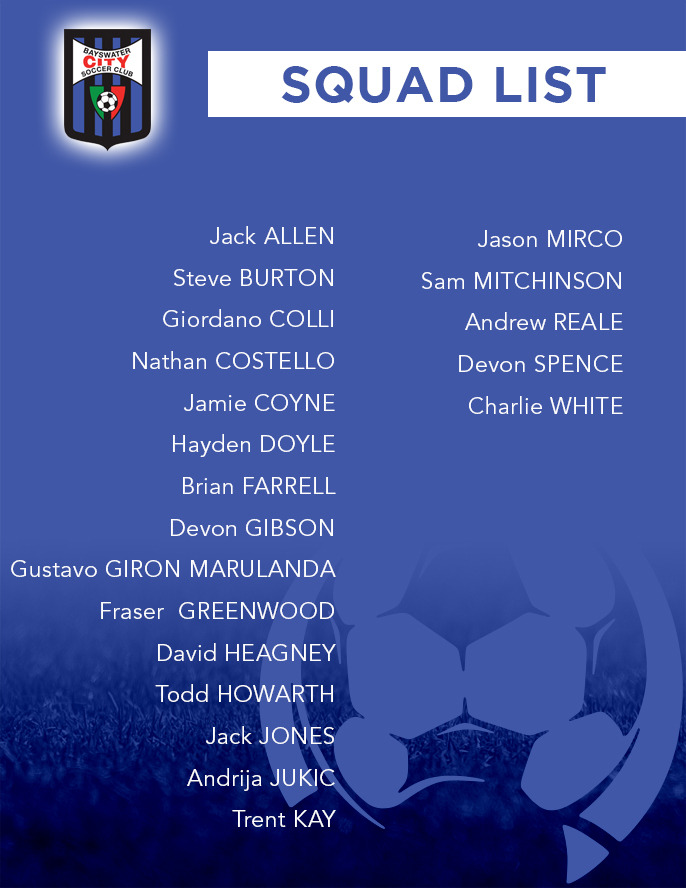 Last Modified on 18/03/2016 12:02