Home
Chris Harmsen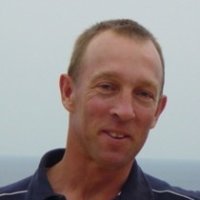 Chris Harmsens sailing career, like so my Hobart boys, started at the Sandy Bay Sailing Club. His sailing highlights include:
1977 International Cadet dinghy club champion Sandy Bay Sailing Club

1978 470 State Champion

1978 Laser State Champion & Aust Youth Champion

Prince Phillip Cup 1981 winner on Tahune as main sheet hand

Melbourne to Hobart 1982 winner on Solandra with Esky

Admirals Cup 1985 on Intrigue with Don Calvert

14 metre Worlds in Sweden on Kookaburra winner in 1988

Since 2001 Chris has sailed with great distinction on Another Duchess and Wild Oats X & X1 with Mark Richards, winning line honours almost everywhere.
These are a few highlights in Chris Harmsen's stellar sailing career.