Redlands Reach Round of 32
Words: Callum Dick & Michael Flynn
Images: Ray Gardner
Redlands United are the first Queensland club to advance to the Westfield FFA Cup Round of 32 after a dramatic come-from-behind 2-1 win over Rochedale Rovers at Cleveland Showgrounds.
Played in torrid rain, Redlands talisman Graham Fyfe struck a second half brace to see his side storm to victory and secure their maiden appearance in the national stages of the knock-out tournament.
Rovers sprang a pre-kick-off shock by fielding former Brisbane Roar striker Jean Carlos Solorzano in their starting line-up and enjoyed the better of the contest in the first half - taking a single goal advantage into half-time courtesy of Scott Sargent.
However, Redlands' rousing response ultimately delivered cup heartbreak for Rovers, who missed the chance to force extra time by striking the post in time added on.
Redlands will be joined in the national stage of the competition by the ten Hyundai A-League clubs, including fellow Queensland club Brisbane Roar.
Key Moments
8' – CHANCE FOR ROVERS – Paul Mooney slings a free kick across the Redlands goal, with Burrows up to the task diving high and wide to his right to keep the visitors out.
20' – CHANCE FOR REDLANDS – Bechar tests Brandon Cuminao with a sliding ball from the right edge of the area, however the visiting shot-stopper is up to the task.
24' – CHANCE FOR REDLANDS – Bechar beats Cuminao for pace from a free kick just outside the box, however the ball cannons into the near-post.
31' – CHANCE FOR ROVERS – Daryll Grant rises above the pack from a corner, however only manages to head over the crossbar.
38' – GOAL FOR ROVERS – Scott Sargeant pounces on a skidding ball into the box from Jean Carlos Solorzano to strike past Burrows and opening accounts for the visitors.
45' – CHANCE FOR REDLANDS – Grant Brix fires a ball into the crossbar from the edge of the box, narrowly bouncing away from the far post.
56' – GOAL FOR REDLANDS – Fyfe makes an instant impact following his substitution, turning home Bechar's low cross to level proceedings.
60' – CHANCE FOR ROVERS – Gregory Cheshire receives on 35 yards, turns and sends a sizzling ball into the reliable arms of Burrows in the Redlands goal.
70' – CHANCE FOR REDLANDS – Bechar nearly does it all himself, weaving his way along the bi-line however a lack of support in the box meant Redlands were unable to capitalise.
72' – GOAL FOR REDLANDS – A quick clearance has the Rochedale defence in shambles, with Bechar playing wide for Fyfe whose one-touch curling finish bests Cuminao.
90+1' – CHANCE FOR ROVERS – Cheshire shoots agonisingly close, hitting the outside of the near-post form the edge of the area.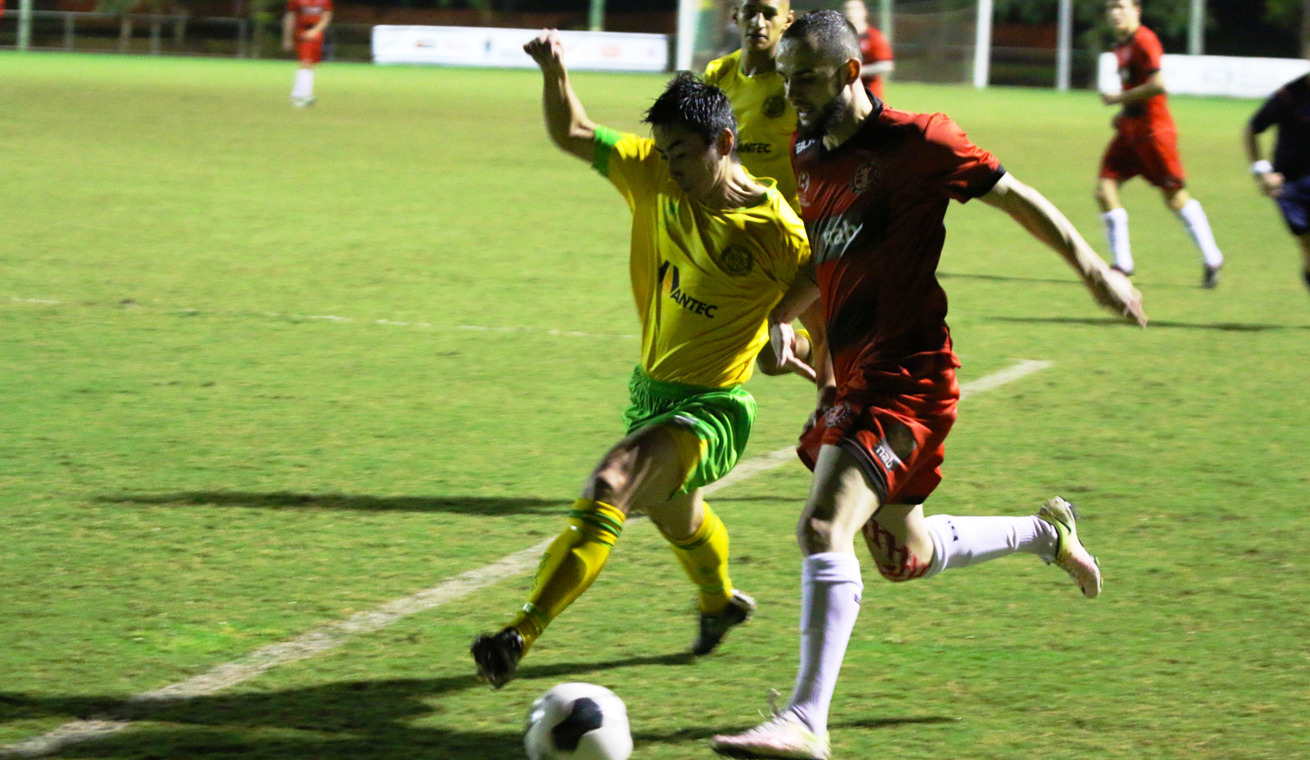 What They Said
"We always planned this week that we would start without (Fyfe and Sao Jose) because they've been injured. I wasn't concerned (at half-time) - we got caught up in cup football, but after that I thought we went back to how we wanted to play. I thought we passed the ball really well considering the conditions." – Matt Chandler, Redlands United FC coach
Match Details
Westfield FFA Cup 2016 – Preliminary Round 7
Friday, June 3
Cleveland Showgrounds, Redland City
Redlands United FC – 2 (Graham FYFE 56' 72')
Rochedale Rovers FC – 1 (Scott Sergeant 39')
Match Centre – http://bit.ly/1t5Zm7p
Match Officials - Chris BEATH (referee), Joseph LEE (assistant), Zijad AHMETOVIC (assistant), Isidro TEROL (fourth)
Last Modified on 03/06/2016 23:15