Where can I play?
#8 Bree White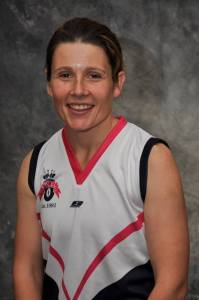 :
Age: 32
Height: 158cm
Place of Birth: Ballarat, Vic
High School: Loreto College, Ballarat
Occupation: Teacher
VWFL Club: St Albans Spurs
Club Jumper No.: 33
Position: Midfield
State Teams: 2000, 2011
AFL Debut: 1990 (Dunnstown FC U/14's)
I first started playing football with my two older brothers. When they began playing for Dunnstown I was the boundary umpire. Whenever the team was short for players I filled in and just started playing from then on.
Football Achievements
St Albans Captain 2012/13
State Representative 2000 & 2011
All Australian 2011
Other Sporting Achievements
I represented Victoria in State Cricket in 99/00 & 00/01
I played Gaelic Football in London from 2006 – 2010 – including Captaining London County Team, I was runner up in All Ireland Final 2007, Champions All Ireland Final 2008
Favourite moment/highlight in playing career
Winning two Premierships. You can't beat the feeling and experience of the whole build up