Where can I play?
#18 Melissa Hickey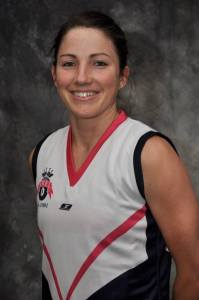 :
Sponsored by: Ipar Rehabilitation
Age: 26

Height: 172cm
Place of Birth: Red Cliffs, Victoria
High School: St Josephs College, Mildura
Occupation: Occupational rehabilitation consultant
VWFL CLUB: Darebin Falcons
Club Jumper No.: 18
Position: Centre half back

State Teams: 2011
Growing up in the country I used to be the only girl playing in my primary school footy team and used to get to play once a year in High School for the annual girls match. Then when I moved to Melbourne and found out that Women's football was here and started playing with Darebin.
How I first got involved in AFL:
Playing at primary school and kicking the footy with my dad and family.

Favourite moment/highlight in playing career:
2010 Darebin Premiership, Winning National Championship in 2011
What are your achievements in football?
Premiership - 2009 & 2010
Runner up Best and Fairest - Darebin 2010
Victoria Representative - 2011
All-Australian - 2011
Victoria Country Representative - 2010