Welcome to the 2018 Season
Welcome to all players and officials for the 2018 Junior Rugby League Season.
There are 14 clubs in the Canterbury-Bankstown District Junior Rugby League (CBDJRL) covering the Canterbury, Bankstown, Strathfield, Auburn and Liverpool council areas.
The youngest a player can play is aged 4.
Below is a guide for coaches, officials, new players, returning players, competition structure, age ready reckoner and club website links.
Contact your current or desired club by clicking on the website link for more information about being involved with that club as a player, coach or volunteer. There's also opportunities to become a referee if you want to stay involved in the game and earn a bit of money.
+ PLAYER REGISTRATION (LINK)
Click on the above link for more information to register as a player in the CBDJRL for the 2018 season. All returning and new player registrations are now done online whereas players transferring to another club need to fill out the NRL Player Registration Form and hand it into their desired club. Following approval of clearance the player transferring to their new club will need to register online.
+ OFFICIALS REGISTRATION (LINK)
Click on the above link for more information to register as a committee member, coach, trainer or manager for a CBDJRL club in 2018. To register as an official in 2017 it will be a two step process. Before any officials over the age of 18 can register or participate with their clubs or the CBDJRL they must have completed the Working With Children Check (WWCC) and been successfully CLEARED. It's now a compulsory requirement by law put in place by the NSW Government and endorsed by the NRL and the Bulldogs Rugby League Club. The process can take up to four(4) weeks so it's best advised to get your clearance NOW. No registrations can be completed until the member is CLEARED.
+ REFEREES REGISTRATION (LINK)
Click on the above link to register as a referee in the Canterbury-Bankstown District. The CBRA are continually on the lookout for new referees. Coaching is provided by a qualified Coaching Co-ordinator and coaching staff for Mini-Mod, International and Safe Play code. If you are interested in becoming a referee, or simply wish to make an enquiry, please contact the secretary by email cbrasecretary@outlook.com or call or visit the website.
+ WORKING WITH CHILDREN CHECK (LINK)
To be involved in all Rugby League competitions across Australia all officials and helpers must obtain a Working With Children (WWCC) clearance. Ready to apply? Click the 'Start Here' button on the right (PC) or below (Mobile). A Working With Children Check is a prerequisite for anyone in child-related work which includes all Rugby League competitions and districts in Australia. It involves a national criminal history check and review of findings of workplace misconduct. No one over the age of 18 that wants to be involved with a team, club or referee can register until they have the clearance letter and been CLEARED.
+ NRL & BULLDOGS SEASON PASS (LINK)
NRL: The 'Play NRL Rewards' entitles participants will be entitled to one (1) FREE ticket per round of the 2018 NRL Telstra Premiership (conditions apply). Participants will therefore be able to attend 26 games free of charge in 2018.
The program is offered to all registered club and school players aged 4-15 (please note: players must be born on or after 1st January 2003 to be eligible for the program). In addition to players, the program is also offered to volunteers, coaches, officials and school officials who are involved in rugby league and have received a WWC clearance.

Bulldogs: All players all ages will receive a free Bulldogs Blue Zone Season Ticket. The format of delivery is yet to be decided upon by Bulldogs Management.

+ COMPETITION STRUCTURE
Start Date: Weekend April 7-8.

Under 8 will be involved in half-time matches at ANZ Stadium and Belmore Sports Grounds when the Bulldogs are the home side.
All Under 5 to Under 12 divisions will be played on Saturday as a local Canterbury-Bankstown competition - starting from 4 years of age.
No semi finals or finals for Under 5 to Under 8.
Under 9 is part of Mini format in 2018. A different league for all ages. See diagram and attachments below.
Teams aged 5-12 are mixed for boys and girls.
Under 13-14 all divisions will be a combined competition with Western Suburbs JL with matches on Saturday.
Division 1 for Under 15-16 will be a combined competition with Western Suburbs JL with matches on Saturday.
Division 2/3 for Under 15-16 will be a combined competition with Western Suburbs JL with matches on Sunday.
Under 17, Under 18 and Under 20 will be playing in a combined competition with other Districts with all matches on Sunday.
A/Grade will be a combined competition with districts to be confirmed to be played on Sunday.
There are 9-a-side girls-only competitions for Under 13-14, Under 15-16 and Under 17-18 with all matches to be played on Saturday under the SCC banner.
+ 2018 AGE READY RECKONER
Please note the under age groups in Rugby League applies from Jan 1 to Dec 31 of the year the player is born, not the current age of the player. Eg, a player born in the year 2003 is classified as Under 15.
U5: born in year 2013 to aged 4 years
U6: born 1/1/2012 to 31/12/2012
U7: born 1/1/2011 to 31/12/2011
U8: born 1/1/2010 to 31/12/2010
U9: born 1/1/2009 to 31/12/2009
U10: born 1/1/2008 to 31/12/2008
U11: born 1/1/2007 to 31/12/2007
U12: born 1/1/2006 to 31/12/2006
U13: born 1/1/2005 to 31/12/2005
U14: born 1/1/2004 to 31/12/2004
U15: born 1/1/2003 to 31/12/2003
U16: born 1/1/2002 to 31/12/2002
U17: born 1/1/2001 to 31/12/2001
U18: born 1/1/2000 to 31/12/2000
U19-20 born 1/1/1998 to 31/12/1999
Open Age: 17 years or older

Girls can take part in all age divisions from 4 years of age to Under 12 (b 2006). From Under 13's onwards Girls take part in separate competitions run by the SCC/NSWRL.
+ CLUB WEBSITES
Click on your club website link to find out information about online registrations, sign-on days, pre-season training and club events.
Auburn Warriors: www.auburnwarriors.sportingpulse.net
Bankstown Bulls: www.bankstownbulls.com
Bankstown Sports: www.bankstownsports.sportingpulse.net
Bass Hill Broncos: www.bassbroncos.sportingpulse.net
Berala Bears: www.beralabears.com.au
Chester Hill Hornets: www.chesterhillhornets.com
East Hills Bulldogs: www.easthillsbulldogs.com.au
Greenacre Tigers: www.greenacretigers.com
Milperra Colts: www.milperracolts.leaguenet.com.au
Moorebank Rams: www.moorebankrams.leaguenet.com.au
Revesby Heights Rhinos: www.revesbyrhinos.sportingpulse.net
St Christopher's: www.stchristophers.com.au
St George Dragons: www.stgeorgedragons.leaguenet.com.au
St Johns Eagles: www.stjohnseagles.com.au
+ OTHER WEBSITES
Bulldogs Rugby League Club: http://www.bulldogs.com.au
Canterbury League Club: http://www.canterbury.com.au
Canterbury-Bankstown Referees Association: http://www.cbra.com.au
Play NRL: http://www.playnrl.com
Working With Children: http://www.kidsguardian.nsw.gov.au
Service NSW Website: http://service.nsw.gov.au
+ 2018 CBDJRL REGISTRATIONS
- Overview
- Working With Children Check
- Player Registrations
- Team/Club Official Registrations
- Referee Registrations
- NRL & Bulldogs Season Passes
- Club Websites & Contacts
- Bulldogs Membership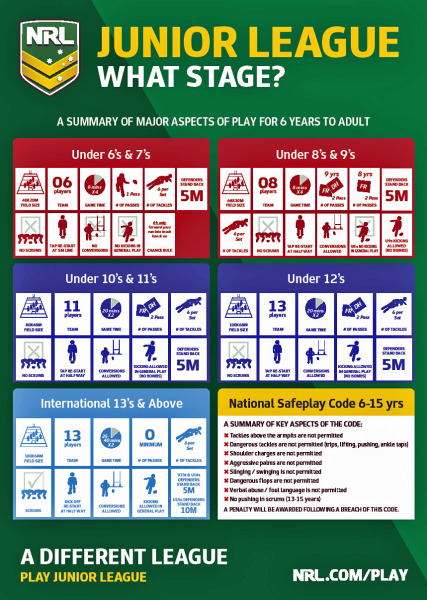 Canterbury-Bankstown District Junior Rugby League
Last Modified on 04/03/2018 15:18