2018 Bankstown Bulls Training & Registration
The Bankstown Bulls Junior Rugby League Club pleased to announce the pre-season training times and registration benefits for the 2018 season.
Training will be every Tuesday and Thursday at Ruse Park (Stacey St South & Gartmore Ave, Bankstown, 2200) starting in February with the fixed times in place until the teams are selected.
The Bulls welcome new players to the club to join our returning players and the club will be striving to field at least two sides in every age group.
Players can be part of training before officially registering or signing-on with the club.
Follow in the footsteps of 2017 Steve Mortimer Rookie of the Year & Bulldogs NRL star Marcelo Montoya and be part of the Bankstown Bulls in 2018.
TRAINING TIMES
Under 5 - 5:00pm (b 2013-14) min 4yrs of age
Under 6 - 5:00pm (b 2012)
Under 7 - 5:00pm (b 2011)
Under 8 - 5:30pm (b 2010)
Under 9 - 5:30pm (b 2009)
Under 10 - 5:30pm (b 2008)
Under 11 - 5:00pm (b 2007)
Under 12 - 6:00pm (b 2006)
Under 13 - 6:00pm (b 2005)
Under 14 - 6:30pm (b 2004)
Super 15 - 6:30pm (b 2003)
Under 16 - 6:30pm (b 2002)
Under 17 - 6:30pm (b 2001)
A/Grade - 7:15pm (open)
REGISTRATION PRICES
Under 5 - $20 or Active Kids Rebate Voucher (min age 4 years)
Under 6 to Under 18 - $20 + $100 Active Kids Rebate Voucher
* Full Registration Fee setup is available for members who won't be taking up the Active Kids Rebate between U6-U18
* The Bulls will assist with setting up of Active Kids Rebate Vouchers

REGISTRATION BENEFITS
Polo Shirt
Shorts
Socks
Cap
Gala Day
Presentation Day
Trophy
Yearbook
Free NRL Season Pass (1 game per round)
Free Giveaways
& much more
Super 15 players on top of standard registration will receive the clubs heritage jersey, sports bag, hoodie and weekend trip away to the NSW Academy of Sport.
For more information about being involved with the club as player, volunteer or sponsor please email info@bankstownbulls.com or call Lawrence (Secretary) 0414 339 902, Michael (President) 0417 693 881 or Matt (Assistant Secretary) 0488 275 900.
Coach contacts & age ready reckoner for all age groups available on the 2018 Information Page.
Coach required for Under 14.
Pre-Season Guide is attached.
Website: www.bankstownbulls.com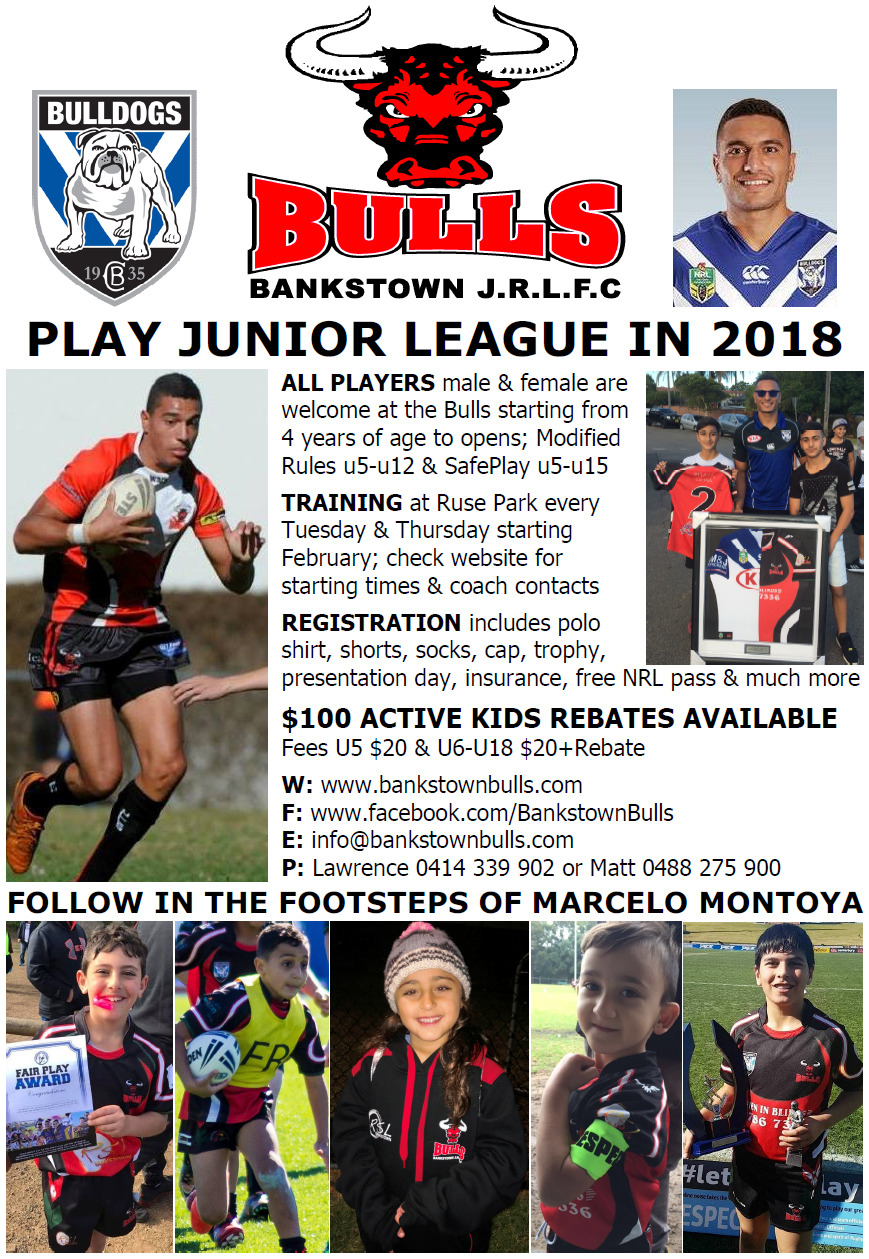 Last Modified on 15/02/2018 09:35