2017 Three Island Race
We always look forward to the Three Islands Race! This race has a bit of everything starting with a mass start of 24 yachts. This year the start was a bit boring – there was no sound of crunching fibreglass and the accompanying cursing, wailing and gnashing of teeth.
After a downwind start in a light southerly, there is the mad dash to Lion Island which we round to port, trying to get clear air and making sure you have enough height to clear the island. Then the decision – how far to go past the island so that you don't get caught in the lee. Do we carry a spinnaker past the island and into the river proper. This year spinnakers didn't seem to be much of an advantage as some spinnaker-free boats were keeping up.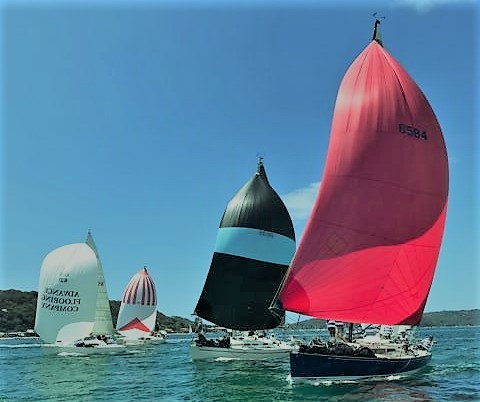 Then there is the dash to Juno Point. Well, this year is was more of a drift. It was nice of the lead boats to stop and wait for the stragglers at Juno Point where virtually the whole fleet fell into a hole. The boats that skirted close to Juno Point definitely had an advantage as they drifted with the tide through the fleet.
The reach from Juno to Danger is where we make the vital decision – "which way do we go around Danger Island?" you see the S.I.'s state that you can take Danger Island to Port or Starboard - your decision. Along this stretch it is traditional to change your mind at least five times whilst you approach the island. Will we go with the flood tide and go anticlockwise or do we go with the wind for the clockwise run.
We took a vote on Aeolian and went around anticlockwise. What a disaster! We sat there for at least 20 minutes going nowhere whilst other boats, some quite small, drifted past us. We managed to get too close to the eastern shore and had a devil of a job getting away with the wind changing direction and stopping and starting all the time. Eventually we broke free and approached the rail bridge where we found some breeze and we were away. Once you are around the island, you see the clockwise boats coming out and you can judge how horrendous your anticlockwise decision had been.
From then on it was plain sailing in a good breeze trying to peg back as many boats as possible. A nice work down the river to West Head then a two-sail reach up Pittwater to Longnose Point. Pop the spinnaker for the run to Scotland Island, then decide how long to hold it before you work your way around the west side of Scotland. This is always fun because of the short tacks usually in competition with other boats. This time Aeolian and Manly Office had a bit of a scrap through there.
As we approached the finish line, Aeolian's skipper was steering from the low side of the vessel and thought we had a way to go to the finish line. At this stage Aeolian had edged past Manly Office and it was a struggle to make the pin without tackling.
"Bruce, you've got to tack"
"Why? We might get a lift before we get to the finish line."
"You must tack NOW. You are at the finish line" Just then the pin came into the view of the skipper and we were indeed past the finish line.
"Oh S#@t! Quick we'll do a 360 here"
We did the 360 around the pin and thankfully Manly Office thought it was prudent to stay clear and Aeolian finished just ahead. Spraguey tells me he forgot that he had to go around Scotland Island so went too far past Longnose Point, otherwise they would have beaten Aeolian. Yeah sure John!!
Koko did really well. Showing how fast an Elan 37 can be sailed. Roy finished 5th on scratch and 4th on handicap. He finished two minutes ahead of Kelsea Blue (6th and 11th )(must have been a good scrap) and Elusive Spirit had a good result finishing 20th on scratch and 5th on Handicap.
Overall eight boats from Gosford Sailing Club competed. The full result sheet is attached.
The presentation was held in the beautiful upstairs bar of RMYC. Many thanks to RMYC, in particular to Alan Bertram for organising the event and to the sponsor, Molly's Cradle, for providing the wine prizes.
I still don't know how Aeolian won a bottle for the Navigation Prize. We were 30 minutes out with our estimate ????
Three Island Race Results 2017
Last Modified on 13/12/2017 09:19