HISTORY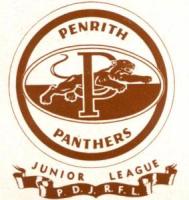 Rugby League was first played in the Penrith and surrounding districts from about 1912 involving teams from Emu Plains, Penrith, Wallacia & St Marys. The number of teams gradually grew as other surrounding districts entered the competition. The Penrith team played in blue & white colours & along the way adopted the Penrith Waratahs with its home ground in the centre of the Penrith Showground.
When the Parramatta Junior League was formed all the teams in and around the Penrith District became affiliated with and played in the Parramatta JL competitions. During the early 60's a NSWRL Second Division Competition was formed. Teams from Wentworthville, Cronulla, Ryde Eastwood, Newtown etc. took part. A team from the Penrith District playing in blue and white also became part of the competition.
In 1967 when the Penrith team (now known as the Panthers) was promoted to the NSWRL First Grade Competition the Penrith & Districts Junior Rugby League was formed. The following clubs were nominated in the first ever Penrith JL competition: Blacktown, Blacktown Workers, Blacktown St Patricks, Emu Plains, Londonderry Mount Druitt, Penrith Waratahs, Riverstone, Rooty Hill, Richmond, Springwood, Windsor, Warragamba, Warrimoo, St Marys.
The number of clubs gradually grew and at one stage during the 70's had more than doubled to 32 clubs. During the late 80's a series of amalgamations took place and the number of clubs reduced from 32 to 22. Some examples of the amalgamations are as follows:
Blacktown Leagues & Blacktown RSL became Blacktown City.
Springwood & Warrimoo became Lower Mountains.
Richmond, Colo & Nth Richmond became Hawkesbury City.
Colyton & St Clair separated into 2 Clubs.
Blackett & Hebersham became Mt Druitt City.
Tregear & Whalan became West Mt Druitt.
The various Presidents of the Junior League have been: Charles Harris (1966-1970), Stan Morris (1971-1978), Maurie Whitford (1979-1984), Don Feltis (1985-1986), Kevin Wood (1987-1988), Ron Bates (1989-1999), Jack Myers (2000-2006), John Mergan (2007).
In November 1986 the Panthers Club appointed Don Feltis as the first full time Junior League Administrator to manage the JL operation. In June 1989 the JL went through a significant overhaul and became an incorporated Company with all JL Clubs becoming incorporated associations. As a result the first Board of Management elected by the members in 1989 was:
Ron Bates (Chairman), John Mergan (Deputy Chairman), Jack Myers, Gary Wilson, Ken Castle, Bill Hubbard, Ken Cornish, Dick Shirley, Jeff Smith, Mick Bruton & Don Feltis.
Since then in November every year there are elections at the Annual General Meeting (AGM) for the Board of Management, Vice Presidents and other positions.