Parramatta District Referees Association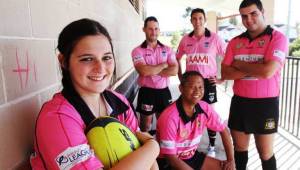 Who are the Referees?
Founded 60 years ago, Parramatta Referees have provided training and development for many referees. Parramatta District Rugby League Referees Association provides trained and accredited referees for matches in the Parramatta area. The Parramatta district covers the Hills District, Seven Hills, Toongabbie, Parramatta, Holyroyd, Fairfield, Cabramatta, Edensor Park, Mt Pritchard and Greystanes areas.
Parramatta Referees have had tremendous success in sending referees to the NRL level, including Bill Harrigan, Ashley Klein, Alan Shortall, Gavin Reynolds, Kasey Badger, Ziggy Adamski, Kelvin Jeffes & Graham Annesley.
Parramatta Referees pride ourselves on having the best training and development programs of any association. We have high standards and work hard to get the most out of our referees.
The Referees are an important part of our great game and without them our games couldn't go ahead. Jump onto the Parramatta Referees Association website by clicking the link below and find out how you can become a ref today!
https://www.parramattarefs.com/
Become a Referee
Do you have what it takes to become the next Bill Harrigan or Tim Mander?
Do you have a love for the game, a patient demeanor, and a desire to excel?
Becoming a referee is a simple process. These pages will tell you all you need to know about joining Parramatta Referees and becoming a Ref yourself.
Being a referee is great fun. You will improve your fitness and knowledge of the rules as well as work with some of the most enthusiastic people in Rugby League.
And its not just for those dreaming of NRL success. Many of our members are happy just being involved and refereeing locally.
Age is not a problem. We have some active referees over the age of 50.

If you'd like to give refereeing a go, you can contact the Director of Recruitment & Retention or call us on 0488-BE-A-REF or 0488-23-2-733 or go to the Contact Us page. You will be told of the next preliminary course.

Once you have completed the course, you will become a preliminary referee. From there you can advance through the accreditation process and ranks.

Who knows, maybe you will referee the NRL Grand Final one day.