About Us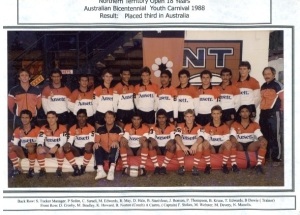 THE NRL NT acknowledge the Larrakia people as the Traditional Owners of the greater Darwin Region and pay our respects to Larrakia Elders past and present.
Darwin Rugby League
The first Rugby League competition in Darwin took place in 1941. This competition was among servicemen stationed in Darwin during World War 2. The competition was suspended following the Japanese air raids on 19 February 1942 and did not recommence until 1943.
The game was not played on an organised basis after servicemen left the city at the end of the war until the formation of the Northern Territory Rugby Football League Association in 1950. The newly formed association's first game was held on 14 January 1951. Rugby League in the Northern Territory is being played at Richardson Park.
The Darwin Rugby League is a former rugby league competition based in Darwin, Northern Territory. The competition is administered by the Northern Territory Rugby League which is the body that takes care of the League's Affairs. It administered the competition, officially, since 1950 in Darwin until 2010.
On 6 May 2010, the Australian Rugby League disbanded the Darwin Rugby League due to ongoing issues, Rugby League in the Northern Territory now comes under the NRL NT.

The seven clubs are:
Brothers Rugby League Football Club

Katherine Cowboys

Litchfield Rugby League

Northern Sharks Rugby League Football Club

Nightcliff Rugby League Football Club

Palmerston Raiders Rugby League Football

South Darwin Rugby League Football Club

Central Australian Rugby Football League (CARFL)
The Central Australian Rugby Football League is a rugby league football competition located in Alice Springs, Northern TerritoryIt has been in existence since 1963. It is a not-for profit organisation tasked with governing the growth of rugby league football around Alice Springs. It consists of four clubs competing in multiple age groups and all games are played at Anzac Oval, Alice Springs.
Both United Magpies and Wests Dragons have been members of the CARFL since its foundation in 1963.
The four clubs are:
Central Memorial Bulls

United Magpies

Vikings RLFC

Wests Dragons
Katherine Rugby League
The Katherine Junior Rugby League is a rugby league junior competition based in the town of Katherine, Northern Territory. It is a three club competition with age groups running from under 5's to under 15's. The A Grade side and Under 16's take part in the NTRL and travel to Darwin, NT to compete.
The three clubs are:
Katherine Bushrangers

Katherine Cowboys

Katherine Raiders