JOBS BOARD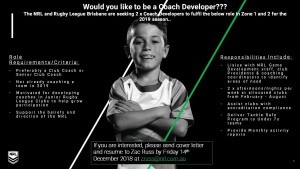 The NRL has an opportunity for 2 people to join its Coach Developer team in the Brisbane North Area.
We are seeking experienced people who are motivated to help mentor and improve the coaching environment at junior rugby league clubs in Zone 1 and 2.
Role requirements and responsibilities can be found here.
Enquiries to Zac Russ, Game Development Officer - South East QLD, tel: 0418 185 056, or email zruss@nrl.com.au.