G & D J R L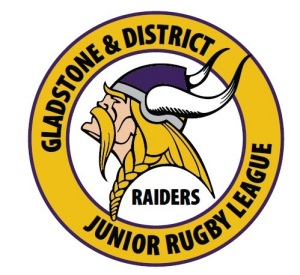 Gladstone & District Junior Rugby League is the controlling body for junior rugby league in Gladstone & surrounding areas.
G&DJRL comprises 7 clubs, with player age groups ranging from U6 to U17.
These clubs include:
Biloela Calliope
Miriam Vale Past Brothers
Tannum Sands Valleys
Wallabys
We have U14- U17 games on a Friday night, and U6s - U13s play on Saturdays.
Our fixtures are played at Briffney Creek Fields on Harvey Rd, next door to the Harvey Road Tavern commencing at 5.30pm on Friday night and 8am each Saturday
Click here to see where Briffney Creek Fields on Harvey Rd are situated. The field is part of the green fields on the right hand side of the road before the green arrow.