Become a Referee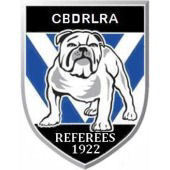 INTRODUCTION
The Canterbury-Bankstown District Rugby League Referees Association (CBRA) was established in 1922 to serve rugby league in the district. Our association has a proud history and tradition and over the years has become known as the "social association". With well over one hundred current members, the association provides referees for not only the Canterbury-Bankstown Junior League but to the NSWRL and NRL competitions as well.
HOW TO BECOME A REFEREE
We are continually on the lookout for new referees. Coaching is provided by a qualified Coaching Co-ordinator and coaching staff for Mini-Mod, International and Safe Play code. If you are interested in becoming a referee, or simply wish to make an enquiry, please contact the secretary at cbrasecretary@outlook.com or 0452 066 376.
WEBSITE LINK
www.cbra.com.au
+ OTHER WEBSITES
Bulldogs Rugby League Club: http://www.bulldogs.com.au
Canterbury League Club: http://www.canterbury.com.au
Canterbury-Bankstown Referees Association: http://www.cbra.com.au
Play NRL: http://www.playnrl.com
Working With Children: http://www.kidsguardian.nsw.gov.au
Service NSW: http://www.service.nsw.gov.au
+ 2018 CBDJRL REGISTRATIONS
- Overview
- Working With Children Check
- Player Registrations
- Team/Club Official Registrations
- Referee Registrations
- NRL & Bulldogs Season Passes
- Club Websites & Contacts
- Bulldogs Membership

MAJOR SPONSOR



Canterbury League Club

Canterbury-Bankstown District Junior Rugby League