Women and Girls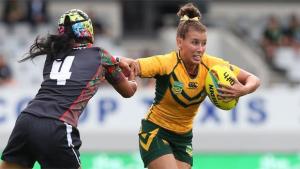 We are committed to providing opportunities for all Tasmanians to play Rugby League.

Over 180,000 women and girls are playing Rugby League in Australia - that's a 30% increase in 2014... And that's without any Tasmanian involvement!
If you are interested in getting involved, please contact us as we will be advertising for a women's competition for the 2015/16 season.
Here's some more information for you on what we can offer.
FORMATS
Different regions offer contact (Rugby League – Tackle) and Non – Contact (League Tag) + NRL Touch Football across Australia.
League Tag is a non – contact form of Rugby League using tags that stick onto shorts or belts instead of tackling. Registrations for League Tag are through your local club.
Rugby League (Tackle) and League Tag are played within the following structures:
Mini Footy + Mod League (6 – 12 Years):
Mini footy (ages 6 – 8) and is for both boys and girls and is focused on meeting the needs of younger children. It focuses on involvement and encouraging learning through play without the pressure of sticking to the strict laws of the adult game.
Mod League is for both girls and boys and is focused on the 9-12 year age group, when the demands of adult football are still too much, but the simpler Mini Footy is not challenging enough.
Modified rules all under the NRL safe play code provide girls a fun, safe environment to play footy.
Junior Rugby League (13 – 17 years)
Girls will play in girl – only teams through their local Junior Rugby League Club.
Different regions offer different age groups from ages 13+.
Senior Women (Ages 17+)
Senior Women's competitions are played throughout Australia
PATHWAY
The pinnacle of Women's Rugby League is to represent the Australian Jillaroos.
Australian Jillaroos:
The Australian Jillaroos team is coached by Steven Folkes and are the current World Champions. Aside from the World Cup, the team plays in Test matches regularly predominantly against New Zealand and also feature at the Dick Smith Auckland 9s.
A panel of National Selectors select the squad and the following tournaments/matches act as selection trials:
Interstate Challenge (NSW vs QLD)
Affiliated States Championships (VIC, SA, WA, NT and soon TAS!)
NRL All Stars
Interstate Challenge:
The Interstate challenge is the female version of State of Origin. One match is played to determine the premier State. The match is usually played in June or July.
Players are selected from local club and schools Rugby League in each State (+ ACT) for the Interstate Challenge.
Affiliated States Championship:
2015 will see a Women's tackle component added to the Affiliated States Championship which will act as a selection trial for the Australian Jillaroos Squad for players residing outside NSW/ACT/QLD... And soon TAS!
In 2015, the Women's All Stars vs Indigenous All Stars played the curtain raiser to the Men's match in front of a large crowd on the Gold Coast. This match provides a further representative opportunity for the female calendar.