Coaching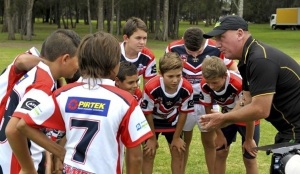 COACHING
The National Rugby League aims to ensure that all Rugby League coaches receive both essential and beneficial educational opportunities through the National Coaching Accreditation Scheme. Coaching Accreditation is compulsory for all Rugby League coaches in Australia, regardless of what age or level you are coaching at. It is essential that new coaches gain a basic understanding of how to coach, different stages of learning and development, safety considerations, as well as the core skills, tactics and laws of the game prior to taking on the role of a coach.
The following coach education courses must be completed under NRL policy:
Modified Games Coaching Course (6-12 Years)
International Games Coaching Course (13+ Years)
Senior Club Coaching Course (18+ Years)
All NRL programs will be delivered by NRL Game Development Staff.
TRAINING
For further information regarding Rugby League coach accreditation please visit: www.playnrl.com/get-involved/coach/accreditation