Sporting Schools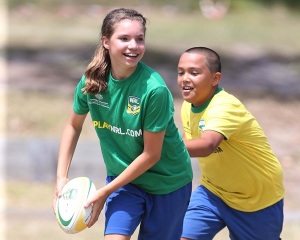 The health benefits of physical activity are well documented and the NRL want to help parents and schools build important habits for girls and boys so the next generation avoids the significant health issues facing our society. The NRL has two key programmes to support this aim; Backyard League and the new Play NRL programme.
Backyard League
Backyard League is an exciting programme that aims to introduce students to Rugby League in a safe, non-competitive and fun environment. The programme equips students and teachers with the tools to play a version of our great game in any setting while delivering important education, health and welfare messages. There are two age categories within Backyard League; these are Foundation-Year 2 and Year 3-Year 6.
The Foundation – Year 2 programme uses story based learning to assist young students to grasp the skills and concepts of rugby league. Lessons have been designed alongside a story that builds on students fundamental movement skills where they learn through active play and minor games in a fun and safe environment.
The Year 3 – Year 6 programme, developed in partnership with Dr Greg Forrest from the University of Wollongong, the Year 3 – Year 6 Backyard League programme is underpinned by an innovative games and sports teaching approach. Research findings suggest there is strong evidence that the Backyard League programme improves game play understanding and is closely linked to higher levels of motivation, increased participation and more positive attitudes towards playing games and sports.
Your Backyard League lesson may be incorporated into your classroom timetable. Alternatively, we also offer schools the option to run a before or after school program for students. Programs can be conducted over five consecutive weeks or any alternative that is most convenient for you. The Backyard League program comprises of 5 lessons of 30-45 minutes with activities based on students' age and ability. All activities are modified to encourage maximum involvement and enjoyment for all participants.
To make a booking for your school, please contact us.
Play NRL
A new initiative that will engage students to become fit and healthy sees the National Rugby League partner with the Australian Sports Commission as part of the Australian Government's Sporting Schools Programme to introduce Play NRL.
Play NRL is an introductory program that aims to offer participants a "non-competitive" programme that focuses on fun and participation. The programme is structured around the distinct needs of school aged children and their developmental requirements. The programme caters for all types of experiences and skill levels through touch, tag and tackle options.
The Play NRL programme is a non-competitive form of the game where no formal scores are recorded. There are no competition points and no final series. The Play NRL programme has mixed teams uses small sided games played on a smaller field. Modified rules are used to encourage greater participation for all players. All players play under the NRL Safe Play Code.
To make a booking for your school, please contact us.