Girls in League 7's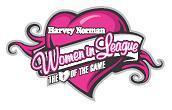 The Girls in League 7's Competition introduces girls of primary school age to the game of Rugby League. ARL Development officers attend schools and focus on the development of skills with girls only sessions.
Officers enter schools across a 5week program teaching players passing, tackling and kicking techniques and integrating them into safe game play.
At the conclusion of the program, the participating schools compete in a girls gala day.
The clinics are designed to increase female participation in Rugby League and to promote the game as a family sport.
The 2011 Girls in League 7's Gala Day is being held at Nambucca's Coronation Park on the 14th September. The schools participating in the 2011 competition are: Dorrigo Primary, Korora Primary, Sawtell Primary, Smithtown Primary and William Bayldon Primary School.