History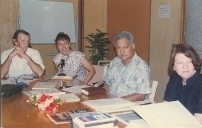 Background

The Oceania Sport Information Centre was established in 1997, as a joint project of the International Olympic Committee (IOC), Oceania National Olympic Committee (ONOC), the Australian Sport Commission, UNESCO and the University of the South Pacific (USP). Picture: The first OSIC Advisory Committee - Prof Randy Thaman, Dr. Esther Williams, Dr. Robin Mitchell & Ms. Nerida Clarke
OSIC is the only regional Sport Information Centre in the world that has been receiving special funding from the International Olympic Committee (IOC) through its Olympic Solidarity Program.


What OSIC Does

The Centre aims to collect, manage and disseminate information in the field of sport and physical education for the region.

Clients

OSIC provides services to a wide range of clients most of whom are members of ONOC. This includes, Guam, Papua New Guinea, Nauru, Samoa, American Samoa, Tonga, Vanuatu, Fiji, Republic of Marshall Islands, Federated States of Micronesia, Tuvalu, Solomon Islands, Cook Islands, plus other members of USP. Members of the general public and other educational institutions can also use our service upon special arrangements.

Location

OSIC is located within the USP Library on "Level B" next to Reader Services.

Accessibility

The collection is accessible to all users.

Who can use OSIC

Coaches, teachers, sport administrators and development officers, athletes, researchers (journalists to historians), physiotherapists, sports psychologist, sports trainers, USP students and staff and general public under special arrangements.