Women In Sport Celebrated In Port Vila In A Big Way
Just under 200 female pikinini, youth and mamas came to celebrate the contribution women have made and will continue to make in sport in Vanuatu at a specially organised event at Wan Smolbag early last month.
The laughter coming from the participants of all ages and all abilities was infectious and there was a general positive vibe carried by everyone throughout the day.
The setting at Wan Smolbag was perfect; with a Youth Centre, Sports Field and Nutrition Centre to cater for the day's events.
With the sun shining, the day began with an opening address from the Director of Women's Affairs, Dorosday Watson and the Women In Sport Commission members, Dalsie Baniala, Kathie Simons and Amelia Lawac.
While the health and welfare challenges that women face in Vanuatu were highlighted, the participants were also encouraged to see the opportunities available to them through sport and education and to strive for success in whatever areas they chose to pursue.
The event was supported by 11 National Sports Federations; Basketball, Netball, Rugby, Hockey, Futsal, Athletics, Beach Volleyball, Cricket, AFL, Table Tennis and Rowing.
These National Federations ran 'come and try' clinics throughout the day so that the women in attendance could try new sports - often ones traditionally seen as male sports - to see what options are available to them here.
Many of them have since noted they will need to increase their female leagues and squads following an increase in interest on the day.

The event was facilitated by Tracy Elliott and Jessica Richardson. Tracy and Jess are both working to increase participation in sports through equity programs for womenand people with disability in the Vanuatu Aquatics Federation and the Vanuatu Association of Sport and National Olympic Committee (VASANOC) respectively.
In organising the day, Tracy and Jess, wanted to include a mix of trying out different sports and presentations from sports leaders to show the women and girls in attendance that there are many options to succeed and lead in sport, not just as an athlete but as a coach, official, mentor or board member.
The day focused on empowering and inspiring the next generation of sports leaders and to assist in this Wan Smolbag was joined by prominent female sports leaders to share their stories and experiences.
Lin Line from Vanuatu Beach Volleyball spoke of her experiences in representing Vanuatu at an international level and encouraged the girls in attendance to strive for excellence in their chosen sports.
The Pacific Mini Games para athlete and rower, Ellie Enoch, spoke of the challenges and barriers she has had to overcome in sport with a disability and gave an empowering speech about inclusion, stating that "no matter if you are able bodied or have special needs everyone has the ability to be a leader in sport".
Anolyn Lulu, Olympian, coach, athlete and mentor in Table Tennis, proved that if you put your mind to something anything is possible. Anolyn spoke of not only her successes as an athlete in Table Tennis but as a coach.
She is currently responsible for the Smash Down Barriers program, encouraging people with disability to succeed in Table Tennis. Look out for Anolyn at the Pacific Mini Games where she will once again be going for gold in her own right!
Wan Smolbag was delighted to have Nancy Patterson, an athlete and coach, come to share her story. Not only is Nancy an inspiring Basketball and AFL player, but she also coaches the senior men's AFL team.
Nancy spoke of achieving success in a sport stereotyped as being male dominated. She also spoke of her recent trip to Fiji, representing Vanuatu with Henry Tavoa as a sport leader, to learn ways to affect national sports policy change here in Vanuatu.
It was wonderful to see UN Women Pacific and Van2017 representatives, with their Mascot Em Pawa, in attendance. Sport for development is a great change maker and there is a lot of support throughout the community in Vanuatu to see women and girls succeed through sport.
Wan Smolbag is passionate about sport for development and believes that sport is a driver for positive societal and individual change.
This Women In Sport day came about through the initiative of Wan Smolbag's sports manager, Jean Noel, who took great pride in the level of participation in the day's events.
"Wan Smolbag are champions in sport development for women in sport. We encourage all girls and mama's to take part in all our sport programs offered here at WSB and we were so proud to bring all of these programs together to celebrate the contribution of women in sport in Vanuatu," he said.
"The WSB facilities are nambawan to allow fulap different sport to take part. Tracy and Jess organised a very successful event with fulap participants across all ages which was great".
This day would not have been possible without the exceptional support of the sponsors; the Carbine Club, VASANOC, Bred Bank and Azure Water, along with Wan Smolbag.
Sport is not just a human right but a way for individuals to come together and celebrate diversity, respect and community, and that is exactly what the Women in Sports day represented.
Based on feedback following the event it is hoped that this Women in Sport day will continue to be celebrated annually.
The future for women in sport in Vanuatu is bright indeed!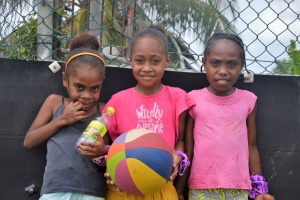 Last Modified on 11/04/2018 12:36