EPATI, Maureen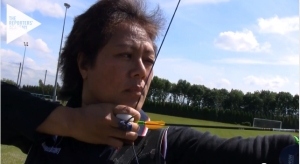 Country: Samoa
Birthday: 17th of October 1970 (Age 41)
Gender: Female
Height: 175cm
Sport: Archery (Women's Individual)
Event: Women's Individual
Athlete Background Story:
Maureen Epati-Tuimaleali'ifano, 41, is a truly inspiring woman. Picking up archery just 7 months ago she never dreamed that she'd be where she is now, representing her beautiful home country of Samoa in the London 2012 Olympic Games. She is one of only four archers to qualify from Oceania, which includes Australia and New Zealand.
Her Olympic experience with archery began when she decided to volunteer and help out at the archery centre in Samoa. She picked up a bow and arrow and thought she would give it a go. As she kept practicing, she was rapidly improving and people continuously encouraged her as they realized exactly how good she was.
Even though Epati-Tuimaleali'ifano is working full time as a bank manager and a mother of two children, she is dedicated to her sport and manages to fit in a whopping 6 hours of intensive training every day. Two hours in the morning and then four in the evening after work.
"In the last seven months it has been hectic….it's quite hard, but it's very entertaining at times and very motivating," she said of her training so far. "It was a tough journey for me…but I made it and I'm proud of that."
Her friends, family and community back home and around the world are all behind her, supporting her. Her two kids studying in New Zealand were as shocked (and excited) as she was to find out that their mother is now an Olympic athlete.
Archery was only introduced to the small pacific island of Samoa in 2005. Starting seven months ago, her coach in China told her it would take 10 years until she could compete internationally. Tens of thousands of kilometres apart from her coach, and with the added complication of a language barrier, it was difficult for Epati-Tuimaleali'ifano to have consistent, ready and accurate feedback. Especially when they had to have a translator for all the emails to go through first. Maureen preferred to Skype with her coach, as they did not necessarily have to talk, she could just watch and learn through his action and demonstrations.
Being a woman in a world of sport that seems to be more male-dominated at times, Epati-Tuimaleali'ifano encourages women to take up sport and to get involved. Her advice to young women and girls is that they have to know who they are first. "You have to play all the sports that you're good at and then if you know a particular sport that you're good at, just give it your best. Young and old, there's no age barrier in all sports. You just have to believe in yourself."
It is also a matter of timing, she said, "if you have that time and if you have the moment, just grab it and be yourself, and you know that we women, we can do anything!" She is looking forward to the future of women in sport and excited at the potential of it, "I believe women can take over all the gold medals…in any sport and I really support that. Go women!"
On the 27th of July, during day four of the Olympics, Epati-Tuimaleali'ifano competed in the Women's Individual Ranking Round in front of a crowd of thousands at Lord's Cricket Ground in London. She placed 63rd with a score of 520 points.
We wish Epati-Tuimaleali'ifano all the best of luck with her future endeavours in archery and know that she will continue to inspire us. Some last advice from her is that age is no barrier, "you're never too old to join any sport, it's just a matter of self belief and self confidence. Join any sports club, and then believe in yourself and you can achieve much higher than you expected…You really have to focus and aim high and then just believe in yourself and you can do it, any age."
By Danya Matonti of The Reporters' Academy