About MINOC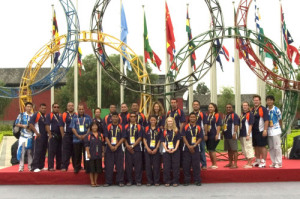 MINOC IOC Membership
February 14, 2006


On February 9, 2006, twenty-four hours before the opening of the Olympic Winter Games in the snowy mountains surrounding Torino, Italy, the decision was passed down from the 118th Session of the International Olympic Committee (IOC) that the equatorial archipelago Republic of the Marshall Island would become the 203rd National Olympic Committee to be admitted into the Olympic Movement.
The Marshall Islands National Olympic Committee (MINOC) joins fourteen other National Olympic Committees in Oceania. Two years from now, in Beijing, China, Marshallese athletes will march under their national flag at an Olympic Games for the first time in history.
"Oceania National Olympic Committees (ONOC) congratulates MINOC President Kenneth Kramer and Secretary General Terry Sasser on the work they and their Executive Committee and National Sports Federations have put into advancing their case for NOC recognition, and looks forward to working with them to further develop sports in the Marshall Islands," said ONOC President Kevan Gosper.
"This is a very proud moment for our nation," said MINOC President Kenneth Kramer. "This will provide our sports community with unprecedented opportunities. We have put together a very strong executive team and National Sports Federations to show our commitment and have pursued continuous dialogue and follow-up to make our dream a reality."
Marshall Islands National Olympic Committee expresses its heartfelt gratitude for the strong commitment from H.E. President Kessai Note, his Cabinet, the Nitijela and all the many people who have been involved in this team effort.
"Years of long efforts have finally been crowned with the IOC recognition of the Marshall Islands NOC," stated MINOC Secretary General Terry Sasser. "One of the main turning points came when I was sent by MINOC to meet with IOC President Jacque Rogge and ONOC President Kevan Gosper during the ONOC General Assembly in Brisbane, Australia in April 2005. My objectives were to formally lobby, on behalf of President Kramer, our National Olympic Committee and our National Sports Federations, and to state why we believed wholeheartedly that Marshall Islands should be accepted for IOC membership."
At that time, ONOC President Gosper gave his personally commitment to visit the Marshall Islands. He made good on that promise when he made an official visit to H.E. President Note, the Marshall Islands National Olympic Committee and its National Sports Federations in December 2005. He observed our high level of organization and praised our membership efforts.
President Gosper was in attendance at the International Olympic Committee 118th Session in Torino to deliver Marshall Islands' bid for IOC membership to the General Assembly and to express his support for our efforts.
Both President Kramer and Secretary General Sasser have received overwhelming numbers of email messages from around the world, congratulating our success and welcoming Marshall Islands to the Olympic family.
MINOC has nine internationally recognized National Sports Federations: athletics, basketball, tennis, softball, swimming, table tennis, volleyball, weightlifting and wrestling.
Marshall Islands does not intend to be merely a spectator at the 2008 Olympic Games in Beijing. Several up-and-coming athletes are favored to qualify: Sprinter Roman Cress holds records in Micronesia and the Pacific Region. Tennis player West Knott took a gold from the Mini South Pacific Games and has successfully completed at both regional and international levels. Weightlifting and swimming federations are producing promising athletes, who will benefit greatly from Olympic Solidarity programs and scholarships by which the MINOC will be able to further develop its sports training.
The Marshall Islands are located in the Pacific Ocean (northern hemisphere, equatorial region) midway between Hawaii and Australia. Two groups of islands make up the Republic of the Marshall Islands, the Ralik Islands (to the west) and the Ratak Islands (to the east), which are 31 coral atolls, 5 volcanic islands and 1,152 islets with a total area of 181km2 and a maritime zone of 1,294,500km2.
The population of the Marshall Islands is essentially Micronesian. With just under 60,000 inhabitants, the country has two official languages: the local dialect and English. The capital, located on the Majuro Atoll, has around 35,000 inhabitants.
Now, each February, as the Republic of the Marshall Islands celebrates its Liberation Day, we will also celebrate our adoption into our new, international, Olympic family.
It is our responsibility to use this incredible opportunity to build on all the hard work that has been accomplished and create something new and Olympic in the Marshall Islands.