HEPLER, Ann-Marie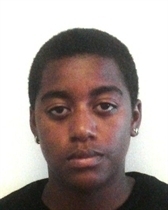 Country: Marshall Islands
Birth Date: April 8th 1993 (Age 16)
Gender: Female
Height: 167cm
Sport: Swimming
Event: 50m Freestyle
Facebook: Please like my page; Click Here
Athlete Background Story:
Ann-Marie Hepler, 16, is from Majuro, Marshall Islands. She started swimming at the age of four, as her Mom did personal swim lessons. This year, Hepler's dream came true when she was confirmed to be representing her small home country in swimming at the 2012 London Olympic Games. She is one of only four athletes representing the Marshall Islands in this year's Olympics.
Hepler is studying full time at high school and is also a competitor in soccer and basketball. She is extremely dedicated to her swimming and manages to squeeze in a phenomenal 20 hours a week of training, which consists much of land training, running, resistant work and a hefty amount of stretching.
"I get up and have morning workouts and then go to school. I try to schedule my practices at certain times so that they don't interfere with social/family commitments," explained Hepler. "Sometimes I do have to miss out on friends, parties etcetera to get in the extra workout."
Hepler has had a tremendous amount of support from those around her. "My family has always been there to support me, my friends as well...(they) are always there to put a smile on my face…(and) pick me up when I am down, and never let me give up."
Hepler is a member of the Kwajalein Swim Team back at home in the Marshall Islands and has been for the past couple of years, alongside Olympic team mate and friend, Giordan Harris.
Her Mom, Amy, is also her coach, so she has had someone by her side every step of the way. Hepler has been training for the London 2012 Olympics for the past two years, and says "It is overwhelming knowing all those people are going to be watching...but this is what I've been training for."
On Friday, the 3rd of August, during day eight of the Olympics, Hepler competed in the Women's 50m Freestyle event in front of a huge crowd at the Olympic Aquatics Centre, in London. She placed 3rd in her heat with a personal best time of 28.06 seconds. Annie said, "I've improved, and still improving.
Hepler was adopted at only three weeks of age, expressing that she absolutely loves her family and that there is no other family she would rather be with, "I wouldn't give my family up for anything!" she said.
Hepler hopes to compete in many more events in the future, including the up and coming Sydney Youth Olympics and the FINA World Short Course Championships. We wish Annie all the best in her future endeavours and we cannot wait to see her standing on top of the podium!
By Chrizzel Pontanes of The Reporters' Academy