NEMRA, Haley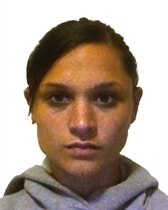 Country: Marshall Islands
Birth Date: October 4th 1989 (Age 22)
Gender: Female
Height: 168cm
Sport: Athletics
Event: 800m
Athlete Background Story:
Haley Nemra is, without a doubt, a shining example of what it means to be from Oceania - always smiling, kind and friendly. The Marshall Islands athlete is a Women's 800m runner at this year's London Olympics, as well as the holder of the prestigious title: Flag Bearer.
Being able to represent your country, not only as an athlete but as the flag bearer, is no small honour. Nemra reflected on her experience marching out into Olympic Stadium at the Opening Ceremony. "Gazing out into the crowd, I couldn't even really tell how many people (there were) because of all the lights but then I realised, oh my gosh that's all of them," she reflected.
At just 22 years of age, Nemra is competing at her second Olympics. In the 2008 Beijing Olympics Nemra represented the Marshall Islands in the Women's 800m, unfortunately not qualifying past the first round with a time of 2:18.83 and coming 7th. She hopes to improve on this time in London, competing on the 8th of August at 11:35am.
Nemra is originally from Marysville, a small town in Washington where she lived with her parents and her older brother and sister. "Money was always either an issue, or a struggle" she said in a presentation made to her peers at the University of San Francisco. So originally, university was almost completely out of the question. However, she didn't give up and eventually gained an Athletics Scholarship to the school and has been studying her degree in Business Administration.
Nemra is especially enjoying the opportunity to live, eat, mingle and train with some of the best athletes from all over the world at the Olympic Village.
"I am so grateful to be here and feel so spoiled with everything they give the athletes here."
She discussed that there is everything you could ever need in the village ranging from an endless amount of food, to every training machine under the sun. She is also using her time here to gain some knowledge about what it takes to become an elite athlete.
"Staying at the Village will help me to meet people from all around the world with the same athletic interests and to see how much it takes to become an elite athlete," she said.
We wish Nemra all the best in her London 2012 Olympic journey.
By Campbell Mayne of The Reporters' Academy