DOWABOBO, Sled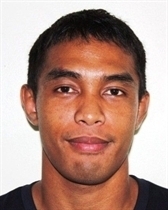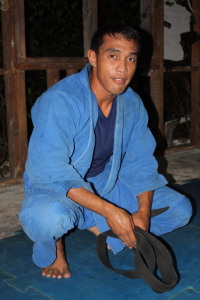 Country: Nauru
Birth Date: March 31st 1983 (Age 29)
Gender: Male
Height: 174cm
Sport: Judo
Event: Men's -73kg
Facebook: Please like my page; Click Here
Athlete Background Story:
At the London 2012 Olympic Games this year, there are just two athletes representing the small Pacific Island of Nauru. Ever since Nauru made its debut at the Atlanta Olympic Games in 1996, the only sport they have competed in is weightlifting.
29-year-old Sled Dowabobo is the first athlete to represent Nauru in the Olympic event of judo. "I'm truly honoured to be the first judo player from my country," he said.
Starting at 13, he decided to take up judo as a recreational activity, and as time went on, he only continued to improve. "I tried judo and I was hooked and found that I was pretty good at it and decided I should go further," he recalled.
It was a challenge pursuing the sport, but that's what inspired him to keep going. "One taste of the sport and I just couldn't let go!" he exclaimed. The training, the competitions and generally being around people that were good at what they did ensured his motivation was not lost.
When Dowabobo first found out he had qualified for the Olympics, it took a few weeks for the news to sink in. Once he realised it was true, that he was going to be representing his home country in the biggest international sporting event of the world, he was ecstatic and his family were behind him all the way.
"When my family realised I qualified for the Olympics they were happy and madly excited…It was the most awesome feeling seeing my father and all my family so happy, they were acting like we had just won the lottery," he smiled. Dowabobo's huge family including his six brothers, three sisters and over ten nephews and nieces, all support him, emotionally, mentally, physically and financially.
There have been times when it got tough and Dowabobo felt like he should just quit judo, but his family and friends kept encouraging him, spurring him on to achieve better things in pursuing the sport that he loves.
"They boost me up when I'm training. I nearly quit, but they keep motivating me to not give up. They keep saying 'you're almost there, keep going. Don't give up,'" he said. "My family and friends supported me 100 percent…I am glad and forever grateful to them backing me up in hard times." It wasn't just his family and friends helping him though, "I decided I wanted to go to the Olympics, so I keep motivating myself not to give up…I'm here."
Dowabobo was happy to have fought in such a high level tournament as the London Olympics this year. He loved his first time Olympic experience, "It's hard to be part of something big like this. It's awesome," he said.
He competed in the Men's 73kg Judo category and although he put in all his effort, unfortunately he wasn't able to qualify for the next round. When Dowabobo returns home, with full support from his family, friends and team, he will be back on the mat, looking ahead and training hard for his next big goals of the Commonwealth Games in Glasgow 2014 and the Rio Olympics in four years time.
"My ultimate achievement will be to be fighting in the next Olympics hopefully and perform and fight much better and also have more than just one judo qualifier from Nauru," he said. His country will be very proud with the results, irrelevant of the outcome, because they all know that Dowabobo tries his hardest, and that's all that counts.
Looking to the future, Dowabobo still sees himself involved with judo in some way. "I'm not sure what I'm planning to do after judo. Maybe work at a job or coach and prepare another future athlete for judo, so can't really tell…but I'm definitely going to be still involved in judo."
Coming from such a small country, Dowabobo is embracing all the facilities and opportunities available to keep improving. He's passionate about judo and loves how sport brings people together.
"I think sport seems to have all the same roles in all cultures from all over the world; it builds good characters and discipline and keeps the communities and people closer."
By Danya Matonti and Jesse Baker of The Reporters' Academy