About the Course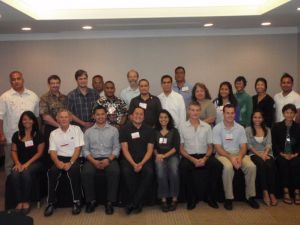 The Guam National Olympic Committee held its first IOC Regional Sports Medicine Course May 12 and 13 at the Sheraton Laguna Guam Resort.
This course was conducted under the auspices of the Oceania National Olympic Committee Medical Commission and funded by Olympic Solidarity. It was intended to educate doctors, physiotherapists, sports trainers and coaches with practical and clinical scientific training with the latest trends in sports medicine.
The course lecturers who presented at this course include: Dr. Jose Canlas (Philippines), Dr. Luis Cruz (Guam), Dr. Sean Fitzsimmons (Guam), and physical therapist Chris McCullough (New Zealand). A total of twenty-eight participants attended the course, including seven visiting medical professionals from the Federated States of Micronesia, Marshall Islands, Commonwealth of Northern Mariana Islands and Palau. Julienne Duenas, local physical therapist and member of the GNOC Medical Commission, was the director for the program.
The Medical Commission, through the Olympic Movement, supports the basic rules regarding best medical practices in the domain of sport and the safeguarding of the rights and health of the athletes. It supports and encourages the adoption of specific measures to achieve those objectives. It complements and reinforces the World Anti-Doping Code as well as the general principles recognized in international codes of medical ethics.
For Course Presentation Downloads, click here.