About Us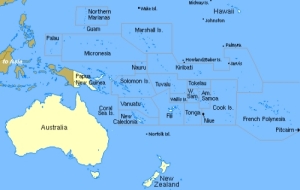 BADMINTON OCEANIA
Oceania is a diverse Confederation of 22 National Olympic Committees covering many millions of square kilometres. Flight times from East to West are in excess of 18 hours from North to South nearly 10 hours. Our largest country has 22 million population, our smallest 10,000. Oceania is one of the largest confederations by area but the smallest in terms of population.

Each of these countries contributes to the Olympic ideal. Our Confederation in other sports boxes well above its weight in the world, in many sports; Swimming, Rowing, Netball, Weightlifting, Triathlon, Cycling, Rugby to name but a few. That badminton is small in the regions is a combination of a number of factors. Distance however is a major issue and getting people together to experience international competition is a supreme difficulty.

Communication is far stronger, Oceania Badminton has 2 staff on board (Chief Operating Officer and Development Manager) and a professional unit finding their way through the world of sports funding, drawing on very limited and often overstretched human resources and the absolute competition from other sports competing for the attention of people in the region.

The Oceania Confederation is one of the 5 Olympic Rings. Each ring carries the same weight in the Olympic family. Each ring is deserving of attention according to its needs.

Status of Oceania.

Currently there are 15 members; Australia, New Zealand, Norfolk Island, Fiji, Samoa, Tuvalu, Tahiti, Tonga, Kiribati, Nauru, Soloman Islands, Northern Marianas (CNMI), Cook Islands, Guam and New Caledonia.