Women's Tournament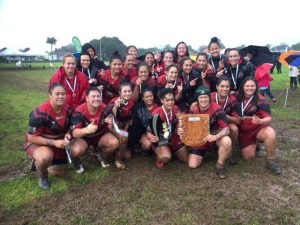 The 2018 NZRL National Womens Tournament, Cornwall Park, Greenlane, 2 - 4 June.
Six teams competing:
Counties Manukau, Akarana, Auckland, Wai-Coa-Bay, Wellington, Canterbury.
For scores and draws please click on the following link:
http://websites.sportstg.com/assoc_page.cgi?client=1-3926-0-0-0

Congratulations to the Women Stingrays! Winners of the 2018 Bobby Vercoe Trophy & NZRL National Women's Tournament.
HISTORY
2017
2017 NZRL National Women's Tournament
Cornwall Park, Auckland, June 3-5
Final
Counties Manukau Stingrays 18 (Jocephy Daniels, Atawhai Tupaea, Krystal Rota & Hilda Peters tries, Kimiora Nati, 1 Goal) Akarana Falcons 14 (Madison Bartlett, Shontelle Woodman, Crystal Tamarua tries, Laishon Jones, 1 Goal )
Final Most Valuable Player: Lilieta Maumau (Counties Manukau)
FINALS MATCH OFFICIALS
Rochelle Tamarua (referee)
Antoinette Watts & Nigel Williams (touch)
Final Placings
1 Counties Manukau Stingrays
2 Akarana Falcons
3 Central Vipers
4 Auckland Vulcans
5 Canterbury
6 Wellington Orcas
7 Wai-Coa-Bay Stallions
8 Northern Swords
Awards
Manager of the Tournament: Jackie Tuala (Central Vipers)
Trainer of the Tournament: Lazir Mischewski (Central Vipers)
Coach of the Tournament: Rod Ratu (Counties Manukau)
"More Than Just A Game" Fairplay Team: Central Vipers
Back of the Tournament: Apii Nicholls (Counties Manukau)
Forward of the Tournament: Kailey Thompson (Akarana)
Player of the Tournament: Sharlene Atai (Akarana)
Tournament referee: Antoinette Watts
2016
2016 NZRL National Women's Tournament
Puketawhero Park, Rotorua, September 23-25
Final
Counties Manukau Stingrays 12 (Jocephy Daniels, Atawhai Tupaea & Krystal Rota tries) Akarana Falcons 8 (Annetta Nu'uausala & Tanika Bell tries)
Final Most Valuable Player: Teuila Fotu-Moala (Counties Manukau)
FINALS MATCH OFFICIALS
Antoinette Grootjans (referee)
Jaxon McGowan & Mike Rangihika (touch)
Final Placings
1 Counties Manukau Stingrays
2 Akarana Falcons
3 Canterbury
4 Central Vipers
5 Auckland Vulcans
6 Wai-Coa-Bay Stallions
Awards
Manager of the Tournament: Christine Mirko (Counties Manukau)
Trainer/Medic of the Tournament: Dan Keepa (Counties Manukau)
Coach of the Tournament: Mike Linton (Canterbury)
"More Than Just A Game" Fairplay Team: Wai-Coa-Bay
Back of the Tournament: Sarina Fiso (Counties Manukau)
Forward of the Tournament: Annetta Nu'uausala (Akarana)
Player of the Tournament: Kahurangi Peters (Counties Manukau)
Tournament referee: Antoinette Grootjans
2015
2015 NZRL National Women's Tournament
Puketawhero Park, Rotorua, September 25-27
Final
Counties Manukau Stingrays 34 (Langi Veainu 2, Jocephy Daniels, Maitua Feterika, Louisa Gago & Karly Te Kawa tries; Lilieta Maumau 3 & Laura Mariu 2 goals) Akarana Falcons 0
Most Valuable Player: Laura Mariu (Counties Manukau)
Final Placings
1 Counties Manukau Stingrays
2 Akarana Falcons
3 Central Vipers
4 Auckland Vulcans
5 Wellington Orcas
6 Wai-Coa-Bay Stallions
7 Canterbury
Awards
Manager of the Tournament: Renee Puru (Canterbury)
Trainer/Medic of the Tournament: Alan Horn (Counties Manukau)
Coach of the Tournament: Shaun Clark (Counties Manukau)
"More Than Just A Game" Fairplay Team: Auckland Vulcans
Back of the Tournament: Annetta Nuuausala (Auckland Vulcans)
Forward of the Tournament: Krystal Murray (Central Vipers)
Player of the Tournament: Sarina Fiso (Counties Manukau)
2014
Final Placings
1 Counties Manukau
2 Mid Central
3 Akarana
4 Wellington
5 Auckland
6 Canterbury
Final
Counties Manukau 66 (Maitua Feterika 5, Debbie-Atawhai Tupaea 3, Kelly Maipi 2, Sarina Fiso, Laura Mariu, Teuila Foto Moala, Shantelle Dudley tries; Mariu three goals, Kelley Leota & Fiso goals) Mid Central 4 (Sita Kuruyabuki try); HT: 24-4
Referee – Rochelle Tamarua
Touch – Gina Te Rongomau & Antoinette Grootjans
Awards
Tournament referee: Antoinette Grootjans
Tournament trainer: Geneva Webber (Wellington)
Tournament manager: Jo Laurenson (Canterbury)
Tournament coach: Alan Jackson (Mid Central)
Top kicker: Laura Mariu (Counties Manukau)
Top tries: Atawhai Tupaea (Counties Manukau)
Tournament back: Sarina Fiso (Counties Manukau)
Tournament forward: Teuila Fotu-Moala (Counties Manukau)
Player of the tournament: Atawhai Tupaea (Counties Manukau)