West Coast Rugby League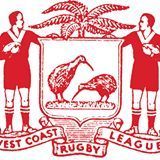 Since locals embraced rugby league on the West Coast back in 1915 it has been an exciting, roller coaster ride. The fortunes of the code have ebbed and flowed along with the economic wellbeing and associated employment opportunities within the District.

The profile of the West Coast and its people, nationally and internationally, has benefited from the exploits of rugby league folk, on and off the field. In fact, rugby league has earned the status of a West Coast heritage icon, up there with whitebait and Monteiths.
To find out more about West Coast Rugby League visit their website:
www.sportingpulse.com/assoc_page.cgi?c=1-7271-0-0-0&sID=241532
or Facebook page:
www.facebook.com/pages/West-Coast-Rugby-League/246918705386805