Coastline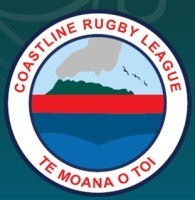 The Coastline Rugby League District stretches from Katikati in the West to Te Kaha in the East. Within this area include the major townships of Tauranga, Mount Maunganui, Papamoa, Te Puke, Kawerau, Whakatane and Opotiki. The Coastline District Rugby League Board are responsible for administrating Rugby League within this district with assistance from UCZ Rugby League.
Coastline District Contacts
Postal Address: PO Box 983, Tauranga
Facebook: Facebook.com/coastlinerugbyleague
Chairman: Stan Nicholas
Email: enzednumber001@hotmail.co.nz
Phone: (07)5766099
Secretary: Jules Walker
Email: juleswalker0@gmail.com
Click here for contact information for clubs in the Coastline District.