Strategic Plan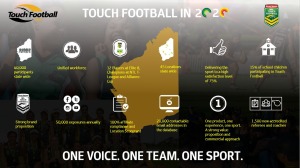 Touch Football Australia (TFA) has one strategic vision for the sport and subsequently there is only one Strategic Plan for the organisation. It is recognised that within this plan, each locality may place a different level of priority on the various TFA strategic objectives to match local needs and approaches to implementation.
Each locality works with the General Managers and State Operations Advisory Panels (SOAP) to prioritise the strategic objectives of TFA as they relate to each locality. This will also be an opportunity to localise metrics that contribute to the overall strategic target and define additional key initiatives. This plan should be read in conjunction with the TFA Strategic Plan and State Operational Plans.
The process to developing the local plan will identify priorities and expectations of stakeholders and the perceived issues confronting the sport in each jurisdiction. The findings will guide operational priorities which will then inform the operational plan. The Values and the Behavioural Framework within the TFA Strategic Plan apply across the business so there is no need for these to be localised as part of this process.