Coaching Pathway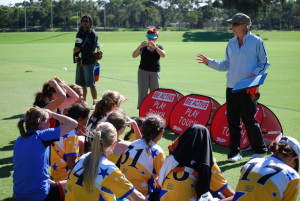 Coaches play a vital role in Touch Football, fostering the development of our athletes both on and off the field.
Becoming an accredited coach is an important step in ensuring that you are providing a quality service to the participants you are working with.
Touch Football Australia has a four-tier accreditation system linked to the AIS Development model FTEM
Coach Accreditation lasts for a period of four years, after which Updating your Accreditation is required.
Resources
Templates
Junior Development
Promotional Items
Policies and Frameworks General
Course Information
Course Name

Duration and Format (approx)

Pre-Requisite

Course Outline


Foundation

7 Hours face to face workshop

Talent

8 Hours face to face workshop


Foundation Coach Accreditation

Elite

8 Hours face to face workshop


Talent Coach Accreditation (12 months)
ASC Intermediate General Principles Course (details provided at time of registration)


Mastery

Currently in development

Currently in development

Courses are run by each State Office, for more information visit your local state website.
There are a number of other online courses provided by the Australian Sports Commision which can assist coaches in development.