VicHealth Families In Touch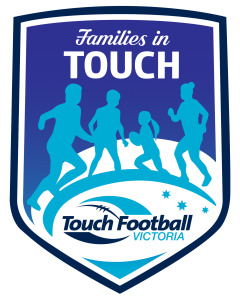 Families in Touch is Coming in May 2018 Near You!
Families In Touch is an all-inclusive program, where people of all ages can participate in Touch Football games and activities on the same field, at the same time. Touch Football Victoria in partnership with VicHealth will launch this initiative across multiple locations in early 2018, with each program running for 5 weeks. Given the social nature of our great sport of Touch Football, we encourage families, friends, community groups and certainly individuals who are interested in increasing their physical activity levels to come and try this new program. The program will start by introducing basic skills of the game through interactive drills and activities, then transitioning participants into Touch Football games within final few weeks.
Additional details:
Cost: $60 for participants over the age of 13yrs, $30 for children or $100 for a family of four.
What to bring: Hat, Sunscreen, Water and suitable clothing for exercise.
Sydenham
Venue: Copperfield College Junior Campus, Sydenham
Day: Monday
Dates:

28/5, 4/6, 18/6, 25/6 and 3/7

Time: 4pm to 5pm
Please register at the following link: https://membership.sportstg.com/regoform.cgi?aID=6486&pKey=4ff06e4e2de73528146eee9a84ad316a&formID=59722
If you have any further questions on #FAMILIESINTOUCH contact Glen Walker on glen.walker@touchfootball.com.au