Western Affiliates Cup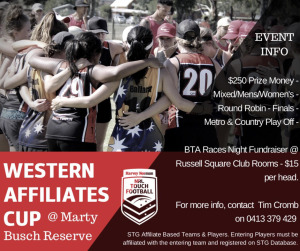 2018 Western Affiliates Cup
Touch Football Victoria is extremely excited to annouce that the 2018 Western Affiliates Cup is going to be held at Marty Busch Reserve in Ballarat with Ballarat Touch Association hosting the day.
The WAC will be held on Saturday & Sunday, 24 & 25 November 2018 with an estimated start time of 9am.
The WAC will accomodate the following competitions.
People are more than welcome to nominate in a Single Sex and a Mixed division, and whilst we encourage players to play in multiple teams clashes may occur and TFV is unable to accommodate for requests in this area.
Referee Requirements
All affiliates are required to nominate a minimum of 1 non playing refereree or 2 playing referees for every 2 teams they enter. Therefore:
Team #
Referee Requirement
1-2 Teams
1 Non Playing Referee
OR
2 Playing Referees

3-4 Teams

2 Non Playing Referees
OR
4 Playing Referees
5-6 Teams
3 Non Playing Referees
OR
6 Playing Referees
7-8 Teams
4 Non Playing Referees
OR
8 Playing Referees
Playing referees will be required to referee a minimum of 2 games throughout the day.
Non playing referees will be required to cover a minimum of 6 games however will be paid for their contribution with the amount to be determined by Ballarat Touch Association.
Do you want to register?
Team Registrations are NOW OPEN! To register your team, use the following link:
Western Affiliates Cup Team Registration
Please note, team registration costs $250 each and you will be required to pay on registration of your team.
Player Registrations will be available on Thursday, 16th November via the following link:
Western Affiliates Cup Player Registration
Need More Information?
View the Western Affiliates Cup Conditions of Entry via the following link:
Western Affiliates Cup Conditions of Entry.
For any online registration enquiries please contact Colette Ritchie from Touch Football Victoria on 0478 696 679 or 02 6212 2824
Make sure you don't miss out on this great event by Registering Your Team Now!