TFV Junior State Cup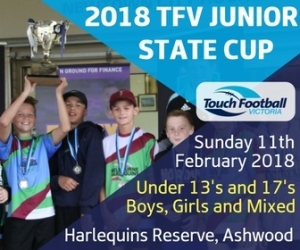 2018 TFV Junior State Cup
The TFV Junior State Cup (previously the Junior Affiliates Cup) is back for 2018! The 2018 event will take place on Sunday, February 11, at Harlequins Touch Association, Homesglen Reserve, in Ashwood.
We will be offering the same divisions as last year, with Under 13's and 17's competition for boys, girls and mixed competition. However, we will be taking expressions of interest for other sides, and if there is enough demand, we will be running divisions for other age groups.
Participants are more than welcome to nominate in a Single Sex and a Mixed division, and whilst we encourage players to play in multiple teams clashes may occur and TFV is unable to accommodate for requests in this area regarding scheduling and other requests.
All Affiliates are to nominate a minimum of 1 Non-Playing Referee, or 2 playing referees for every 2 teams entered. If entering only 1 team, 1 referee must still be provided. Playing referees will be required to referee a minimum of 2 games each during the day at a time suitable for them. All Non-Playing referees will be paid a flat rate of $80 per person for a minimum of 6 games. Playing referees will not be paid.
Junior Teams cost $180 (which includes a team ball)
Click here to register your team now! Registrations close February 4th.
The Conditions of Entry can be found by clicking here.
For any online registration enquiries please contact Chris Riddell from Touch Football Victoria on (03) 9681 3000 or chris.riddell@touchfootball.com.au
Map of Homesglen Reserve, VIC
Melways Reference - 60 H12