VicHealth Healthy Drinking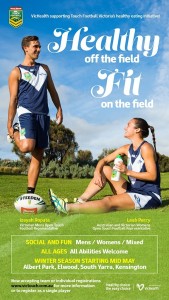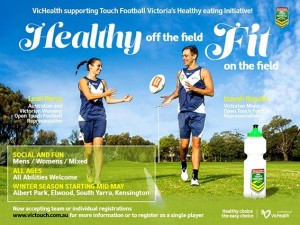 Touch Football Victoria is proud to be working closely with VicHealth and VicSport over the next year on our 'healthy off the field...fit on the field' campaign.
You may have already noticed some changes to our drinks offerings at competitions, particularly Fawkner Park and Albert Park? We are proud to now be providing healthy options including water and low sugar Powerade!
VicHealth and Touch Football Victoria believe that the simpliest way to change people's behavoir is to 'nudge' them in the right direction. This is summed up in our policy below.
We are also excited to have some 'healthy off the field...fit ont the field' ambassadors who will remain the face of the new policy...Leah Percy and Izayah Ropata!
If you are keen to learn more about how to 'eat healthy' and 'drink healthier', below are a range of links which are very useful:
https://www.vichealth.vic.gov.au/be-healthy/be-healthy-eating
http://www.nutritionmelbourne.com.au/