VicHealth Active Women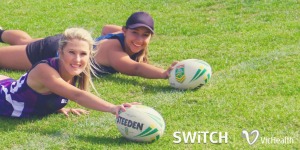 Touch Football Victoria is proud to be partnering with VicHealth to support more Victorian women and girls to get active.
"SWiTCH - Strengthening Women in Touch Football" is our new initiative designed to get more women moving and to build female participation in social competitions across Victoria. Over 6 weeks, participants will learn the basic skills, strength and fitness required to play Touch Football in a fun, motivating and social setting.
We are currently operating in three locations: Albert Park (Melbourne), Wyndham and Geelong.
To express your interest or if you're looking to get into SWiTCH in your local area please fill out the below form and a members of our team will be in contact with you.'
We are looking to build on the locations currently offered and hope to hear from you!