TFNT School Clinics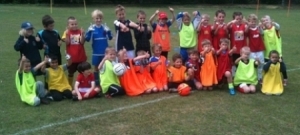 Touch Football NT is able to offer schools clinics to both Primary and Secondary Schools.
These clinics focus on participation and inclusion and involve modified games to get the children active and having lots of fun!
They focus on incorporting fundamental Touch Football movements into these modified games so that the children are learning the skills, but not getting bored with monotonous drills.
Touch NT are committed to offering clinics to all children and are able to offer clinics specifically for disabled or special needs children.
Depending on Touch Football NT staff availability these sessions may be delivered by a qualified casual staff member in which case the school will incur a fee for service.
Please contact Marjorie O'Neill on marjorie.oneill@touchfootball.com.au or (08) 89270532. if you wish to book in some clinics.