Darwin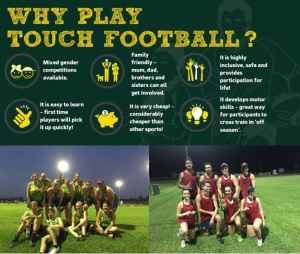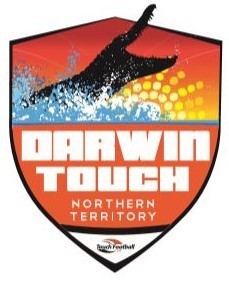 The Darwin Touch competition hosts the following competitions:
Monday Night February 4th 2019 (6pm onwards)
* Men's Open
* Women's Open
* Men's Over 35's
* Junior Competition
Juniors (4-15years):11th February (5.30pm-6.30pm)
Thursday Night from 7th February (6pm onwards)
* Mixed Open
The competition is run at the Darwin Turf Club Dickward Drive Fannie Bay.
Seasons
Season 1 February - June
Season 2, August - December
Venue
Games are played inner racetrack, Darwin Turf Club, Dickward Drive, FANNIE BAY NT
Team Registration for 2019 Season 1
To Register a team in the 2019 Season 1 Darwin competition go to the Darwin Touch Football website www.darwintouch.com.au
Juniors
Men's Open
Women's Open
Men's Over 35's
Mixed Open
Registration Fees for Season 1, 2019.
Adult Team fee's: $1290 Inc GST, this includes all players. There will be no casual fee's etc.
Junior Team in Adult Competition: $1000 Inc GST. All players must be under 18 years of age. There are no additional fee's for casual players.
Junior Competition: Ages 4- 15 years, fee is $100.
For further information please contact Isobel Appo isobel.appo@touchfootball.com.au or 0417875713