Darwin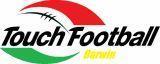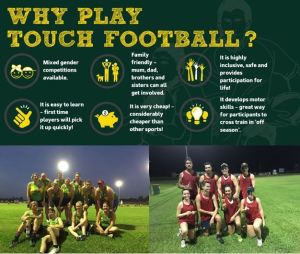 The Darwin Touch competition is hosts the following competitions:
Monday Night August 28th 2017
* Men's Open
* Women's Open
* Men's Over 35's
Junior Competition Sign on day 28th August
Juniors (4-15years):4th September (5.30pm-6.30pm)
Thursday Night from 31st August (6pm onwards)
* Mixed Open
The competition is run at the Darwin Turf Club Dickward Drive Fannie Bay.
Seasons
Season 2, September - December
Divisions
There will be two weeks of grading from the 28th August 2017
Venue
Games are played inner racetrack, Darwin Turf Club, Dickward Drive, FANNIE BAY NT
Team Registration for 2017
To Register a team in the 2017 Season 2 Darwin competition click on the link
https://membership.sportstg.com/regoform.cgi?formID=70514
Juniors
Men's Open
Women's Open
Men's Over 35's
Mixed Open
Registration Fees for Season 2, 2017.
Adult Team fee's: $1290 Inc GST, this includes all players. There will be no casual fee's etc.
Junior Team in Adult Competition: $1000 Inc GST. All players must be under 18 years of age. There are no additional fee's for casual players.
Junior Competition: Ages 4- 15 years, fee is $100, all junior players receive a playing singlet included in their fee.
For further information please contact Isobel Appo isobel.appo@touchfootball.com.au or 0417875713