HOME
PROVIDING THE OPPORTUNITY FOR PEOPLE OF ALL AGES AND EXPERIENCE TO "COME PLAY" BASKETBALL
SCHOOL HOLIDAY CLINIC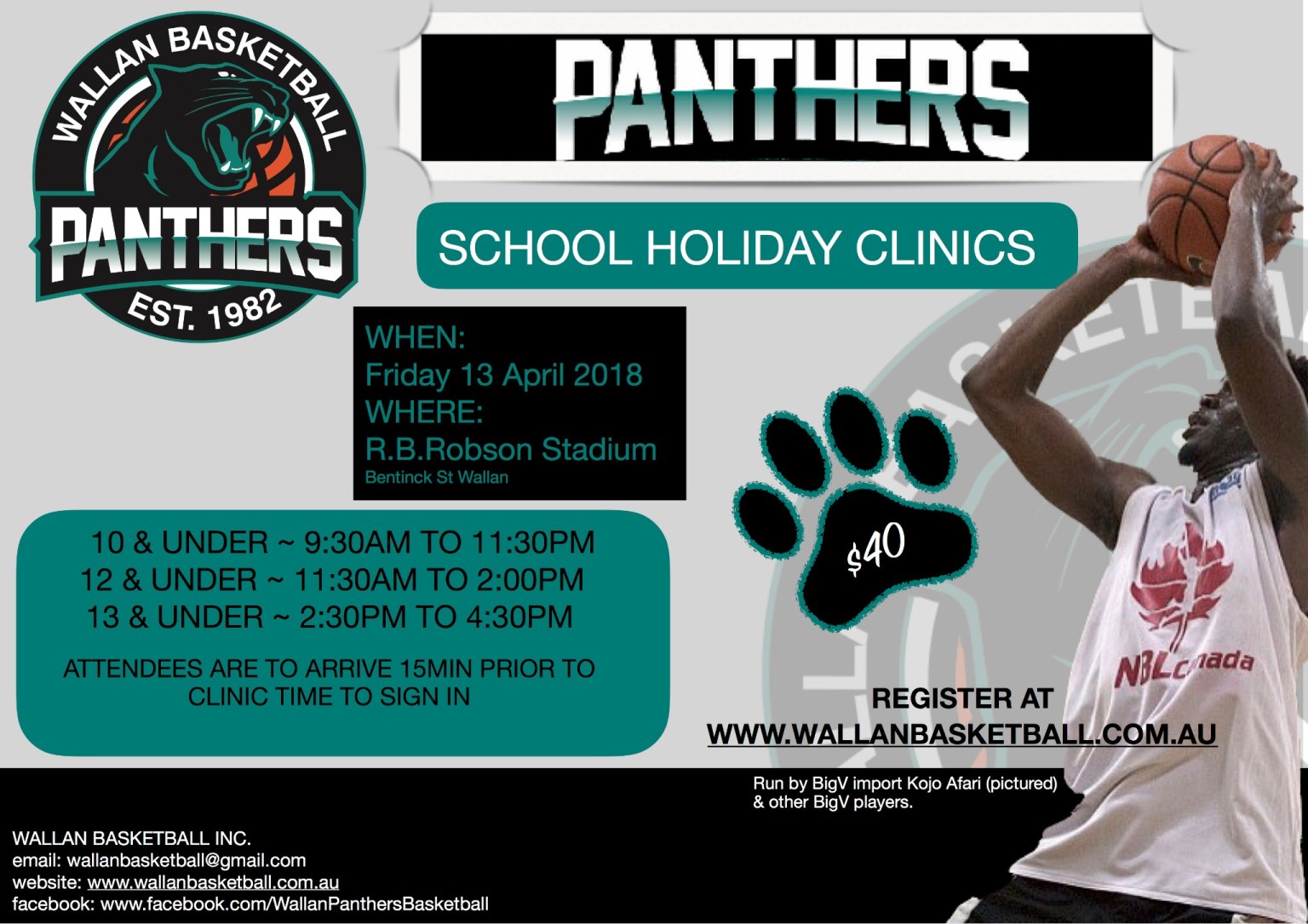 With school holidays around the corner Wallan Basketball are pleased to announce its first Holiday Clinic for 2018!
Come down and learn new skills or sharpen up your skills with Kojo Afari and others.
These clinics are open to BOYS and GIRLS, you don't have to currently be playing you can come down and simply give it ago!
Registrations are open now
...............
SUMMER SEASON ROUND ONE FIXTURE GRID
Good afternoon to all of our families participating in the upcoming Summer Season!
We are all looking forward to another fantastic season of domestic basketball, we have many new families getting involved as well as the usual mainstays of our domestic competitions. We thank you all for being apart of the club throughout this exciting time.
For the first time ever we have an external club competing in our domestic competition, with the Woodend Hawks competing in our Under 10 Boys competition, and we'd like to make them all feel welcome!
With so many new families we thought we'd do something a little different for round one this season, we will skip the training session for one week only as our Director of Coaching Hayden Annett would like to have the chance to chat to the coaches of each age group regarding the expectations of being a domestic coach. We'd also like to take the opportunity to go over some changes that have been made for the upcoming season along with age group or competition specific items with the parents, so if you could please refer to the below picture and please attend the session in which your child is playing.
It's exciting times ahead for the club with our CBL Men's and Women's seasons also tipping off this coming weekend, unfortunately they are away at Wangaratta and we have to wait to see them at home. But keep an eye out and come and see some fantastic basketball during the season!

...............
2017/2018 PANTHERS REPRESENTATIVE SIDES ANNOUNCED
Wallan Basketball is pleased to announce their Junior Representative sides for 2017/2018. Please take note of the following things;
Due to the numbers that attended our Under 16 Boys session along with the closeness in selections, teams are announced for Phase One of Grading. Players will continue to be assessed for attitude, performance and attendance at training and we reserve the right to make changes prior to the start of Phase Two of Grading
Some sides have Development player/s named for the 2017/2018 season these are players who showed great potential who we either believe will get accelerated development through more advanced training or who we believe are ready but a spot was just not available in their role. These players will be a team member first and foremost. They will participate in all tournaments and will fill a role game day where other players are unavailable.
Further discussion is currently happening in regards to our Under 18 Boys and Girls sides, players who attended these sessions will be communicated with in regards to the happenings via email where required.
PLEASE CLICK
HERE
TO SEE THE SIDES
..........
NEW FAMILY WELCOME PAGE
We have just created a page for new families to learn about how to make the most of their experience with basketball. Check it out to learn about the game, the association, pathways etc. If you have any suggestions for other questions you would like answered on it please let us know.
BIGV WOMENS and MENS TEAM
For all the information regarding the BIGV program please click the above new BIGV tab
Wallan Basketball is proudly sponsored by: