FIBA LiveStats
FIBA LiveStats V6 - Now Available
Please ensure you consult your League to confirm the required version of FIBA LiveStats being used.

Version 6 of FIBA LiveStats is now available, just in time for the 2015/16 Season. This version has a brand new graphical user interface as well as many exciting new features that we have highlighted below.

Some of the new features in version 6:
Record basketball game statistics and webcast matches in real-time.
Already in use by a number of professional and semi professional leagues around the world, FIBA LiveStats is a notebook-based software application that allows users around the world to record basketball game statistics and webcast games in real time.
Provided free via download, FIBA LiveStats is fully compliant with FIBA rules, and allows the user to set up a game, including players, coaches and officials from both teams, and collect full statistics using a simple point and click method.
The FIBA Live Stats application is available in English, Spanish and French and Leagues can webcast in up to 25 languages including Chinese, Portuguese and Italian.
Click Here to Download FIBA LiveStats version 6
Click Here to Download FIBA LiveStats version 5 - We will continue to make Version 5 of FIBA LiveStats available to users during the transition period. Please consult your League to confirm the required version.
Features: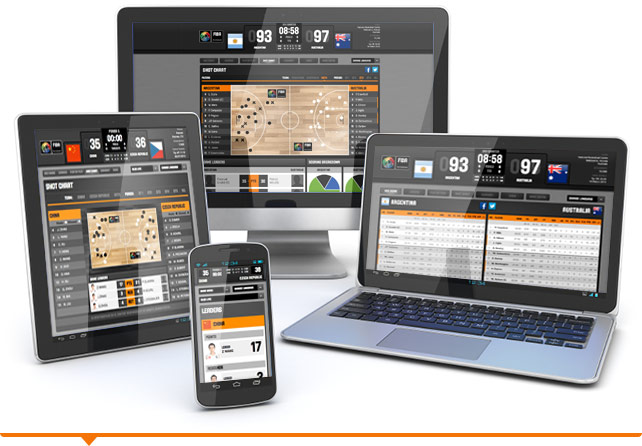 A simple software interface for recording statistics as they happen.
Box score, play by play and shot chart reporting including all official FIBA statistics - New Reports available in latest update include Plus-Minus Summary, Start List, Rotation Summary, Combination Summary and the ability to print an official scoresheet.
Free licensing (fans can download FIBA LiveStats and record stats for their friend's or family's matches).
Simple and free webcasting to anyone in the world. Provided the user is online, the game can be up and webcast within a minute or two of starting.
Import and export game data, allowing integration with the FIBA Organizer competition and results system.
Webcast renders automatically for mobile, tablet and PC devices
Application available in English, French, Italian and Spanish
Webcast available in over 25 languages including Chinese, Korean and Portuguese
League based CMS offers automatic twitter score updates for access please submit a request
TV Statistical Feed can be activated on request - visit support.geniussports.com to submit a request
Who is LiveStats suitable for?
Professional, semi-professional basketball leagues
Local basketball leagues, clubs and teams.
Individual users (basketball participants, their family and friends)
Download:
Language:
Users will be prompted upon installation of FIBA LiveStats which language they wish to install - options available are English, French, Spanish & Italian.
Minimum/Recommended PC Specs:
Refer to the following support article for minimum and recommended PC specs when operating LiveStats
Support:
For support on FIBA LiveStats, please visit support.geniussports.com.
If you have trouble downloading the application or require any help please request assistance at support.geniussports.com.
Note support for FIBA LiveStats V4 and all associated products/platforms will no longer be provided, with the exception of all leagues based in Australia or New Zealand - For further information please contact us via support.geniussports.com so we can assist with the transition to LiveStats V6

- This includes LiveStats V4 webcast/widgets and also the www.live.sportingpulse.com environment