Port Phillip Women's Championship Series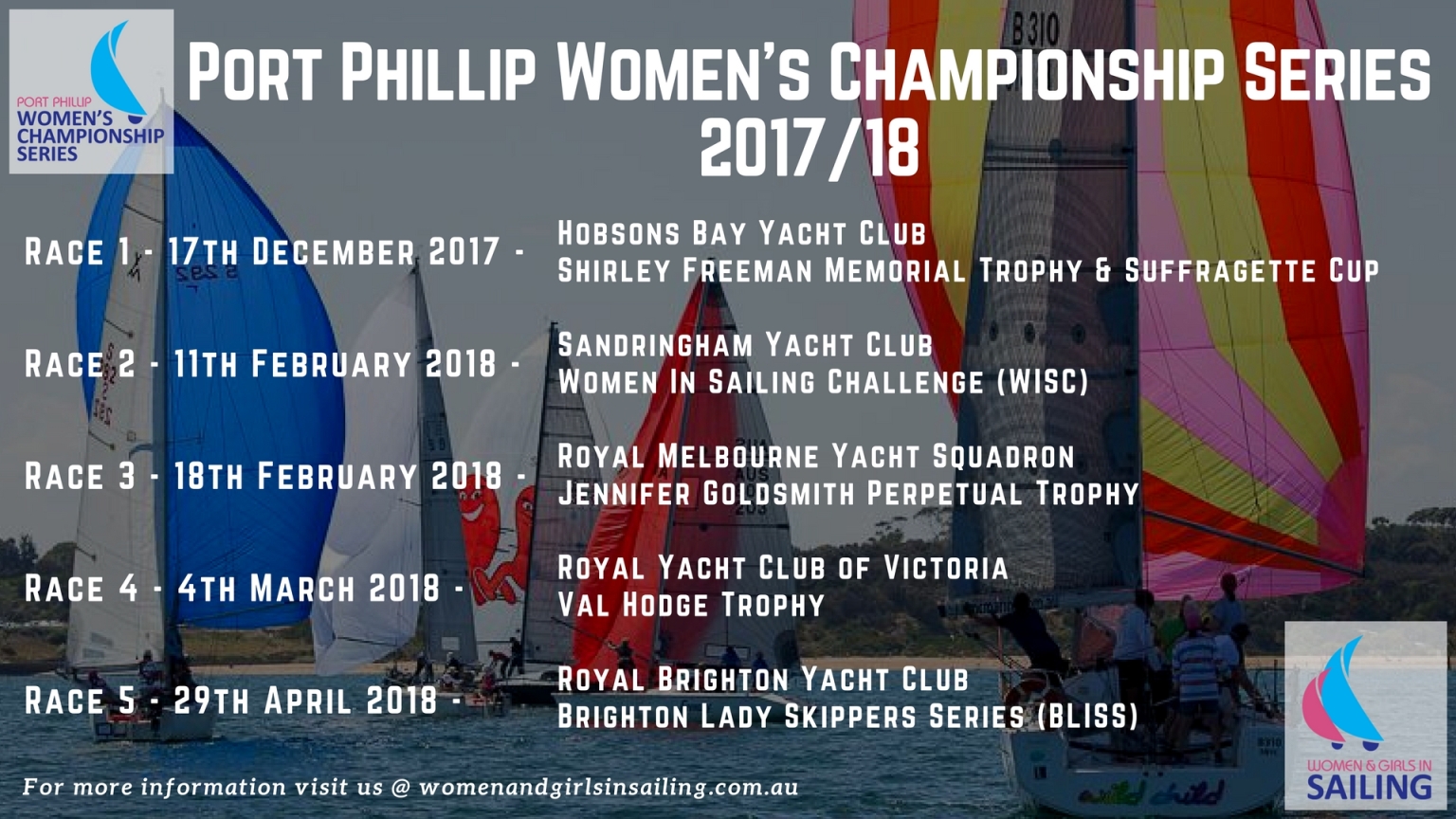 2017-18 Series Information
Welcome back for the sixth Port Phillip Women's Championship Series (PPWCS) to be run from Dec 2017 to April 2018. The five race series for female helms will again be contested in Spinnaker division (scored for AMS, IRC and EHC) and Non-spinnaker division (scored for EHC only).
This season will debut on 17 December 2017 with Hobson's Bay Yacht Club hosting Race Day 1 as a celebration of over 100 years of women in sailing at their club. 'Look how far we have come' will be celebrated at a High Tea, in conjunction with the Synergy Launch – the collaboration established in 2017 linking the major female keelboat regattas on Port Phillip, which connects Women & Girls in Sailing Port Phillip Women's Championship Series (PPWCS), Australian Women's Keelboat Regatta(AWKR) , Brighton Lady Skippers Series (BLiSS) and Women in Sailing Challenge (WISC).
As part of the Synergy, the Victorian Women's Keelboat Training program will also be expanded this year to include the S80 Association which have been staunch enabling supporters of AWKR for several years. Activities will be run in early 2018 so watch this space.
Start planning now, get your crew together, approach your boat owner, recruit your mentors and encourage your female club members to join your club team to have a tilt at the Teams Trophy. Or rally your one design sailors to bring along their own fleet to contest the Class Trophy. You have to be in it to win it!
2017

-18

Dates
2017-18Dates
PPWCS
Event
Host Club
Club Administrator
Register here

Sun 

17 Dec 

2017

Launch

Synergy Launch - WGIS PPWCS and AWKR'Look how far we have come' Celebrating over 100years of Women in Sailing at HBYC.

HBYC

info@hbyc.org.au

Sun 17 Dec 2017

Race Day 1

ShirleyFreemanMemorialTrophy & SuffragettesCup (Non –Spinnaker)
HBYC

Ian Robertson

Sun 11 Feb 2018

Race Day 2

Women in Sailing (WISC)

SYC

James Sly

Sun 18 Feb 2018

Race Day 3

Jennifer Goldsmith Trophy
RMYS

Allicia Rae

Sun 4 Mar 2018

Race Day 4

Val Hodge Trophy

RMYS

David LeRoy

Sun29 Apr 2018

Race Day 5

Brighton Ladies Skipper Series (BLiSS) – Sunday Race

RBYC

Dominic Jackson

Fri 25 May 2018

Awards Presentation

Australian Sailing Victorian Keelboat Awards Presentation combined PPWCS and NMS events

RBYC

Sue Phillips
Race Results
Race 1 - Shirley Freeman Trophy - Hobsons Bay yacht Club
- Race 1 Shirley Freeman Tophy results

Refresh your browser each time you visit.
Race Documents
PPWCS 2017-18 Notice of Series (NOS)
Each host club publishes the Sailing Instructions, Notices to Competitors and Entry Lists for their race (follow the links for each race day under 'Dates' above).
2017-18 Reports
Visit here to keep up to date with all the action on and off the water.
High Tea at HBYC leads off PPWCS 2017-18
Come and celebrate 100 years plus of Women in Sailing
How to Enter
Competitors must enter each individual race separately using the host club's entry system. Cost to enter each race is determined by the host club.
On entry to any one of the five races, competitors will be automatically scored for the PPWCS.
Series Format
Five participating clubs each host one race day. Racing Division scored for AMS, IRC and/or an event-based performance handicap. Non-spinnaker division scored only in event performance handicap.
Three races constitute a series.
The helmsperson for all races of the series must be female. Any change of helm during the series must be notified to the host club. Each individual race has its own rules for the ratio of female: male crew allowed in key positions so check the Notice of Race for each individual race day to ensure compliance for PPWCS scoring.
Female crew members are encouraged and an award will be made for the Best Performed boat with more than 50% female crew for all races based on Performance Handicap results.
Refer to the PPWCS Notice of Series for full details.
Does your yacht need crew / are you looking to crew on a yacht
The Women & Girls in Sailing Committee, with the assistance of the Sailing Administrators from each club, provides a crew matching service for the series. If you are looking for crew for your yacht, or if you are a crew looking for a boat to sail on, email Rosie Colahan davros@bigpond.net.au
Series prizes are awarded to:
First, second and third placed boats in each of IRC, AMS and Event performance handicap.

First, second and third placed boats in Non-Spinnaker division in Event performance handicap (if more than five boats for the division for the series)

First boat in performance handicap that has more than 50% female crew for all races.
The Kingston Trophies Port Phillip Women's Championship Series Perpetual Trophy is engraved with the winners of each rating and handicap system (IRC, AMS, performance handicap) and resides for the following season at the club of the winner of the Overall Champion - the highest scored boat in the rating system (IRC or AMS) with the greatest number of entrants for the series.
The Custom Yacht Covers Port Phillip Women's Championship Series Non-Spinnaker Division Perpetual Trophy will be awarded to the winner of Performance Handicap and resides at the club of the winning boat for the following season.
The Kingston Trophies PPWCS Perpetual Teams Trophy will be awarded to the club with the highest score for participation, calculated on the basis of number of participating boats as a percentage of the numbers on the club boat register, the number of races sailed by each boat and a system of bonus points for youth skippers (under 25yrs) and senior skippers (over 60yrs). The trophy will reside at the winning club for the following season.
'Class Trophies' will be provided for one design classes bringing five or more boats to the event. An excellent opportunity for Associations to promote their classes to all female sailors and encourage boat ownership as well as providing their own Association Women's Class Championship within the PPWC Series.
this season, Synergy welcomes the addition of the S80 Association to the collaborative. With a strong history of support for the AWKR and a record number of 11 S80s competing in the 26 boat fleet in 2017, there will be plenty to encourage more female sailors to progress their sailing aspirations across a wide range of learning experiences this season.
More Information
For each individual event, contact the host club as per the links in the Event table above.
For general information about PPWCS, contact -
AS Club Services Officer - Sue Phillips sue.phillips@sailing.org.au0481 342 668
PPWCS Principal Race Officer – Rob Ware robert.ware@dgjones.com.au 0417 501 704
PPWCS Co-ordinator - Rosie Colahan davros@bigpond.net.au 0409 865 283
Sponsors
Thanks to our generous sponsors for their continued support

~~~~~~~~~~~~~~~~~~~~~~~~~~~~~~~~~~~~~~~~~~~~~~~~~~~~
PPWCS 2017 Wrap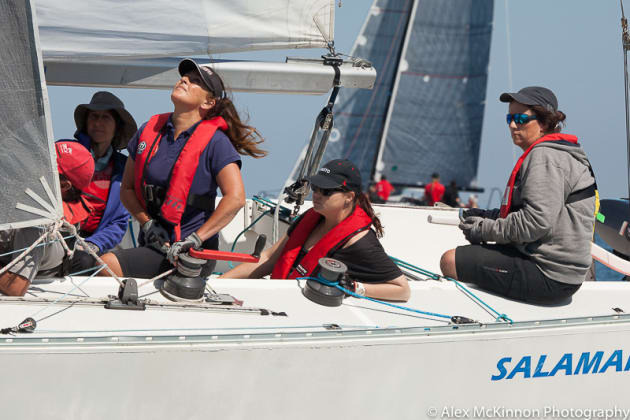 Kingston Trophies PPWCS Perpetual Trophy
1st AMS, IRC & PHS and Overall Champion - Salamander (Monica Jones, RMYS)
Custom Yacht Covers PPWCS Non-Spinnaker Division Perpetual Trophy
Not awarded
Kingston Trophies PPWCS Perpetual Teams Trophy
Royal Melbourne Yacht Squadron


2017 Results
Click here for the cumulative PPWC Series results
View the Award winners for the Victorian Keelboat Awards 2017 PPWCS
Series Wrap
Victorian Keelboat Awards 2017 a winner for CMS and PPWCS
2017 Photos
Thanks to Alex McKinnon for capturing the spirit of PPWCS. Click here to view photos of our female sailors and the on water action.