SA Youth Tri Series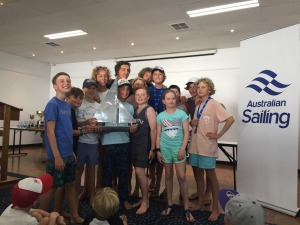 The Tri Series consists of 3 x 2 day Regattas for Junior and Youth Classes with multiple short course racing. A Club Perpetual trophy along with individual Class medals are awarded.
YSA Youth Tri Series Overall Club Trophy Results 2017-2018
Location ▶
PLYC
BSYC
ASC
Total
Place
Club ▾
BSYC
321
1891
887
3099
1
ASC
710
878
958
2546
2
LBSC
529
712
625
1866
3
GAC
277
338
231
846
4
PLYC
496
135
91
722
5
CSC
0
244
426
670
6
HSC
0
140
97
237
7
VHYC
46
46
47
139
8
SUPPORT BOAT REGISTRATION
VOLUNTEERS NEEDED
Volunteers required - Please email Emma if you can volunteer on or off the water


DINGHY and RIB PARKING INFORMATION
Please park all dinghies on their beach trolleys on the lawn to the South of the concrete apron.

Road trailers can be parked along the fence line to the east and north of the concrete apron.

RIBS can be parked in the hardstand lock up behind the club carpark.
CATERING INFORMATION
A coffee van will be at the club from 8:15am to 11:00am Saturday and Sunday

Bacon and Egg Rolls will be available downstairs from the canteen at 8.15am

The legendary ASC canteen will be open for lunch, drinks and snacks.

The Bar & Bistro will open at 12pm – till late with meals being served 12.00pm – 2.00pm and from 5.00pm – 8.00pm.
FISHER PETERSON TILLETT
The Australian Sailing Tri Series will incorporate the Fisher Petersen Tillett Regatta on Saturday.
The Fisher Petersen Tillett (FPT) youth regatta is a long standing ASC / GSC regatta and has always been a friendly and enjoyable event with a focus on participation for all concerned.
Plan to join us after sailing on Saturday for the presentation of the Fisher Petersen Tillett Regatta trophies. Presentation will be in the ASC Bistro at approximately 5.00pm
2016-2017 Youth Tri Series
RESULTS
Overall Club winner - Adelaide SC
2015-2016 Youth Tri Series
RESULTS
Overall Club winner - Brighton & Seacliff YC
2014-2015 Youth Tri-Series
RESULTS
Overall Club winner - Brighton & Seacliff YC
2013-2014 Youth Tri-Series
RESULTS
Overall Club winner - Brighton & Seacliff YC
2012-2013 Youth Tri-Series
RESULTS
Overall Club winner - Brighton & Seacliff YC
2011-2012 Youth Tri-Series
RESULTS
Overall Club winner - Adelaide SC