2015 Wildcat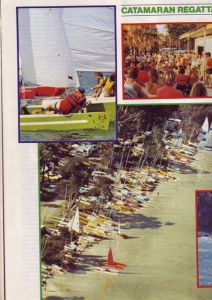 This October, it's Saturday the 3rd, Sunday the 4th and Monday the 5th.
The last weekend of the NSW and QLD school holidays. The middle of the ACT, VIC and SA holidays.
SO there is no excuse for being late. There is no reason to leave early and there is enough fun for everyone.
The grass is mown.
The lawns are now a picture. Just a little top dressing to ensure a cover of greenness. The bindis sprayed.
The search is on for more premium beers.
The dinner menu planned.
New bulb for the projector and a tweak of the TV antenna.
AFL grand final Saturday afternoon.
The Wallabies play on Sunday morning, the NRL on Sunday evening.
The Band plays on Sunday night.
We laugh
We sail
We always race.
We're at the Wildcat.
October 3-4-5 2015.
Need to know more.
We can't wait for everyone to come and have fun.
As always, more than a regatta, it's the WILDCAT.
---
The Wildcat...
We will update this section and the facebook page with more infomation as it comes.
NEWS August: Taipan States at the Wildcat::::: CONFIRMED
NEWS July:::::: F18 Round 1 Travellers Series>>>>CONFIRMED
Here is the NoR and Sailing Instructions.