Learn to Sail
---
Learn to Sail Program
Dobroyd Aquatic Club currently conducts two Learn to Sail courses each year. These run for 20 weeks from October through to April (with a break over Christmas). The courses run on either a Saturday or a Sunday morning. These are introductory courses aimed at teaching the basics of sailing and getting them confident enough to sail single handed.
Students must be at least 8 years old and be competent swimmers.
Over the course of the program, the children will have fun and learn the basics of sailing under the instruction of our Yachting Australia accredited coaches. There will be plenty of time on the water to gain practical experience, as well as on-shore lessons to develop the essential skills for dinghy sailing.
DAC is a Yachting Australia Registered Training Organisiation. Our courses follow the Yachting Australia training syllabus. Under the Training tab on the DAC website you will find a list of what will be covered each week. Our Coaches and Instructors are fully qualified by Yachting Australia.
The lessons begin with safety procedures and basic theory and then students sail in club boats with support boats providing instruction and ensuring safety. The minimum ratio of support boats to sailing boats is 1:6.
The course covers:
Rigging

Rope work

Sailing techniques and manoeuvres

Rescue procedures

Sailing theory and background

Weather, Wind, tide and current
The cost is $360 and includes:
Coaching by Yachting Australia-qualified coaches

A loan PFD

Membership to Dobroyd Aquatic Club Limited

Yachting Australia membership, including logbook and upon graduation, a certification of competency issued by Yachting Australia

the use of a club boat
For more information see frequently asked questions or send an email to learn-to-sail@dobroydsailing.org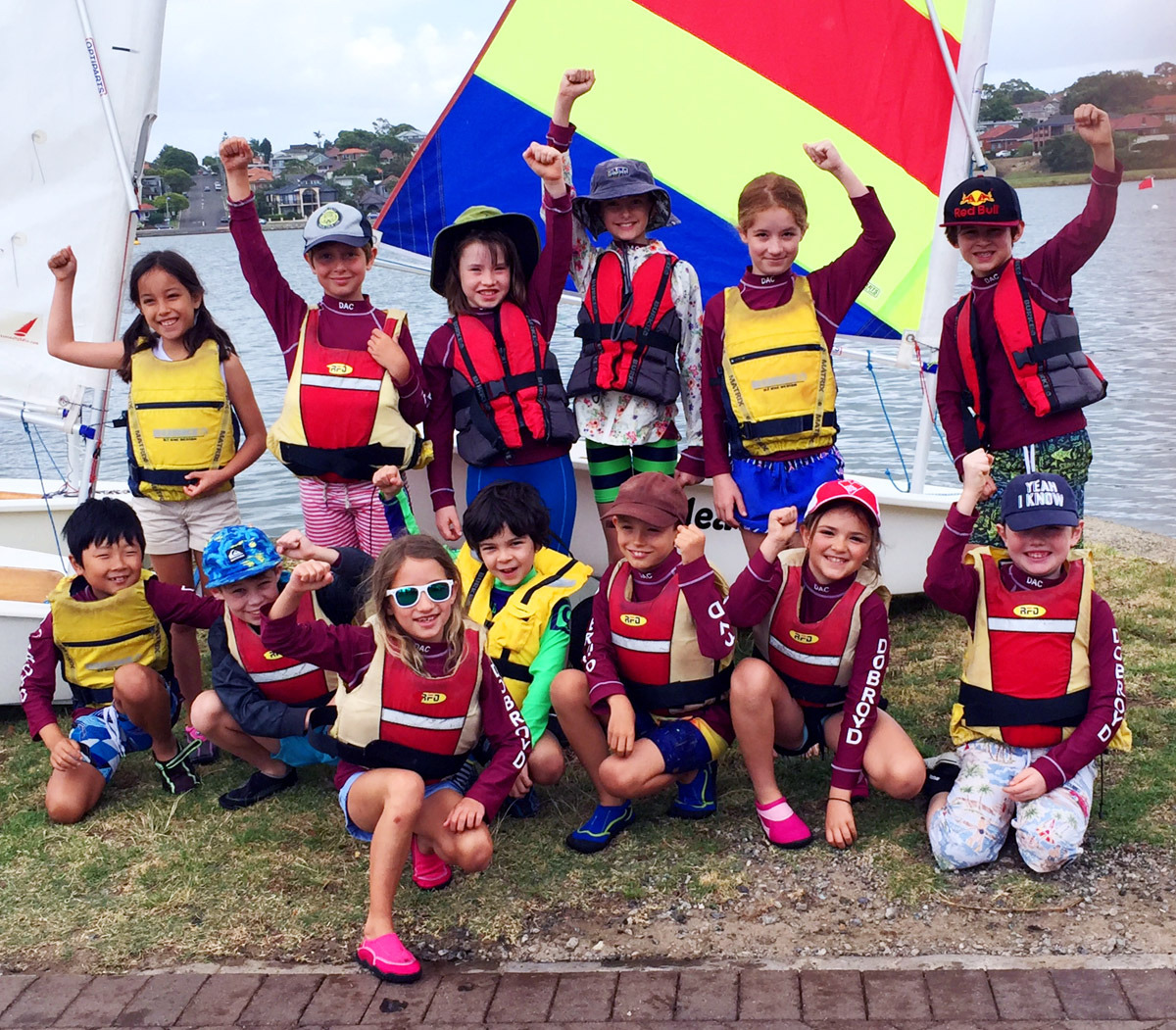 Learn to Sail class having a great time.
---
Transition Class Program
The aim of the "Transition Fleet" program is to revise the skills that were learnt last season and prepare participants for "fleet sailing".
For transition class details download the PDF