Hire a Boat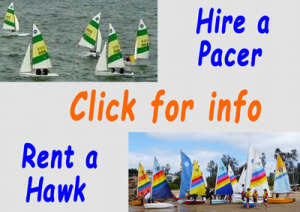 The Pacers and Hawks are for Hire.

Pacers
The Club Pacers are available for casual use
according to the club's Pacer Policy.
(Download Pacer Policy Here)

A booking fee of $20.00 per half day applies.

You must book on line by clicking this link here.
The first time you book, you will have to register.
You then choose your boat and time slot and you will be
directed to PayPal where you pay your $20.00 booking fee
either by credit card or through your personal PayPal account if you have one.

YOU MUST NOT USE A PACER WITHOUT A CONFIRMED BOOKING.

Rigging and de-rigging instructions are posted near the boats and
on the club noticeboard.

Any damage or problem can be reported to one of the following members:
Amanda 0411 221 800, John 0419 517 193 or Michael 0434 656 765.

Hawks
HAWKS ARE CHARTERED FOR THE WHOLE SEASON
except the club retains usage rights for sailing school
To reserve a Hawk choose a boat and make a booking for 1st November.
This will apply to the whole season.
A non-refundable fee of $250 applies to cover the whole sailing season.
You must book on line by clicking this link here.
PLEASE DISCUSS WITH EMMA MORRIS 0425 784 877