About Us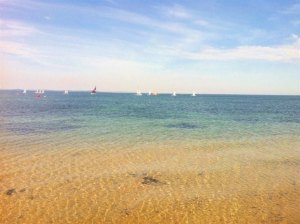 Vision and Values
Our Vision
We are Western Port's First choice for Sunday Sailing, Fishing and having a great time
Values
Teamwork: We will work together to help everyone to have a great time.
Responsibility: We are proud of our Club and want to pass it on to the next generation in a better condition than we found it.
Learning: We pass on our knowledge to all who come to our Club.
Passion: We love being on the water and we love Western Port.
Respect: We understand that members come to our Club for different reasons and we respect all and their passions.
Our Activities
We sail we fish and we have a great time at Balnarring Beach, Victoria, Australia.
Racing
We race off the beach boats from October to April each year. Classes sailed include Hobie, Impluse, Sabre, Pacer and Optimist.
Sail Training
We have comprehensive sail training program for all ages.
Fishing
You would rather be fishing than queueing up at a public launching ramp. We have the only decent launching facilities, for boats up to 7.5m LOA, between Stony Point and Flinders. We have two tractors to take your boat down the beach.
Community
We have a strong relationship with the Balnarring Beach Foreshore Committee. We respect our environment and work hard to ensure the beach from which we operate is the best that it can be.
Club Summary & Contacts
Officials
Name
Position

Email

Marg Douglas
Commodore
Adam Smith
Commodore - Vice
vicecommodore@westernport.org.au

Mb: 0404 885 348

Colin Franke
Commodore - Rear
Adam Smith
Commodore - Immediate Past
Robert Pease
Club Secretary
robert.pease61@gmail.com

Mb: 0423 387 110
Graham Henderson
Treasurer

gkhen@tpg.com.au Mb: 0402 893 922

Wendy Franke
Membership Secretary
Mb: 0413 018 076
Glenda Bayley
Club Committee Member / Social Secretary
Tracey Swadling
Club Committee Member / Discover Sailing Centre Principal / Women and Girls in Sailing Club Coordinator
Michael Boswell
Club Committee Member
Frank Jurovic
Club Committee Member / Rescue Boat Captain
frankjurovic@bigpond.com

Mb: 0422 380 294
Robert Barden
Club Committee Member

0417 053 911

Lynn Dugay
Yard Manager
Location
We are located at Balnarring Beach, Victoria, Australia on the Western Port side of the Mornington Peninsula. It is about 80 kms from Melbourne.
Physical Address: Foreshore Road, Balnarring Beach
Postal Address: PO Box 101, Balnarring, Victoria 3926
Melways Reference: 193 D10
Phone Number: 03 5983 5675
Camping
Camping is available through the Balnarring Foreshore. See www.balnarring.net for more information.