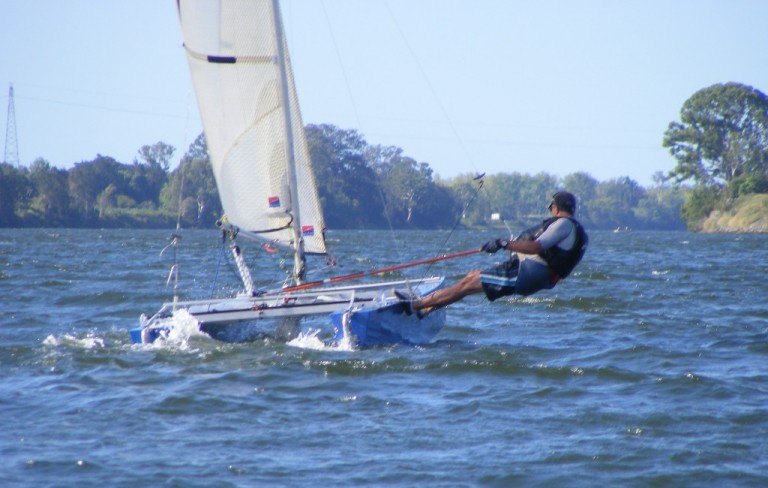 Arrow catamaran - Tony Rose
A brief History of the Clarence River Sailing Club
The following notes are taken from the excellent publication "Clarence River Sailing Club - 50 years" written by Malcolm Eggins to mark the 50th anniversary of the club in 1994.
To see a copy of the above in pdf format (approx 6 mb),

click here to download

.



Pre 1944 History

Even though the club was officially formed in 1944, sailing was always a part of the Clarence River. From the early cedar getters who sailed up the Clarence on the schooner 'Susan' until the present day sailing boats have not only been a vital transport link but an ever-popular recreational activity. As testament to the latter, the Big River has spawned at least two sailing clubs and two yacht clubs.
Prior to the second world war there were a number of sailing boats in the Grafton area - cedar and pine skiffs, flat bottomed punt like boats and even fishing boats with sails. Before these people had a chance to form a properly organised club the war intervened and most of these boats were impounded and left to rot in a paddock near Calliope. A sad end for so many boats.
A typical boat of this era was the cedar planked skiff 'DY' pictured below. 'DY' was owned by local Allan Jackson and was sailed regularly on the river.and kept it moored at the end of Duke Street - near the old baths. It's interesting to note that 'DY' was the boat in which club stalwart Salty Sellar had his introduction to sailing. The story goes that Allan and some friends were sailing one weekend when they spotted a young chap in a canoe nearby. They offered him a ride in the sailing boat - his first. That young chap was Salty and that ride probably started his sailing career.
Allan Jackson in 'DY' - c1935. Allan introduced Salty Seller to sailing in 'DY'
Prewar skiffs c1938. Centre one is 'DY'. One on right is 'Chance' owned by 'Monty' Montgomery.

Towards the end of the war a number of boats were sailing on the river more or less as social outings, but they used to meet out on the river and finally the competitve urge prevailed and they decided to form a sailing club to organise some racing.

Foundation of the club - 1944
The club's first meeting was held under a street light in Duke Street, Grafton in 1944 and a committe was elected. The founding officers were WM Newman (president), KC (Salty) Seller (treasurer) and JB Murdock (secretary).
The first boat storage area was a Scout's shed at the end of Duke Street, however because of its small size many boats were kept at various other locations along the river. The first boats in the club included VJ's, VS's ,12' and 16' skiffs.
By 1945 boat storage had become a real problem and when a flood washed away the Scout's shed, it was decided to apply to the council to erect a shed near the bridge at the present site. Permission was granted on 5th October 1945 and with generous donations from local businesses and a great deal of voluntary labour from club members the new shed was completed by August 1947.
The shed was constructed on piers made of old railway sleepers driven into the mud on the river's edge. At high tide water flowed beneath the floor of the shed. There was no grass rigging area at that time. Boats were launched by means of a wooden ramp - also made of old railway sleepers.
Extensions and Improvements

Various improvements and extensions were added in the following years - including more storage space, club room, starter's tower and canteen.
Club house and rigging area - 1965.
A major upgrade and rebuild took place in 1970, including demolition of the original shed which was by then in a bad state of repair, a new starter's tower, new canteen and a concrete apron. The land on which the club stood was a crown reserve at the time and had to be dedicated as a public recreation reserve and a lease obtained so that a loan could secured be for the new building.
Members put in a huge amount of time, effort and expertise to complete these works but were rewarded with a first class facility. Apart from minor repairs, some cladding and decking and a new fence the club remained much the same until 2000.
Club house in 1994.
March 2000 Flood to present
A major flood in March 2000 completely destroyed the club house. A huge amount of silt accumulated on the roof which subsequently collapsed. With the assistance of the Grafton City Council and State Government flood recovery funds a new building was constructed on the same site and is the one we use today.
Boats and Classes

In 1946 the club carried a motion that all new boats must be
VJ's
and
VS's
with standard gear. Within a short time the club had a large fleet of the these boats and as Richmond River and Manning River Clubs also sailed these classes, competition flourished. By the 1950's 14 VJ's and 16 VS's were registered with the club.
VJ's 'Crusader' and 'Black Diamond' and VS 'DY' (different to DY skiff above) - about 1949
In 1962 the
Moth
class was adopted. One of the first was 'Tempest' a skiff variety designed, built and sailed very successfully by Malcolm Eggins. This class became very popular and evolved through various designs including double chine and modern skiff versions with narrow hulls and wings. They are no longer sailed at the club.
In the following season (1963-4) a new senior class was discussed and it was after
NS14
sailors / designers Frank Bethwaite and Rodger Smith demonstrated their boats at Grafton this class was adopted as the senior monohull class. This boat has been one of the most successful and enduring classes in the club and continues to attract a very competitive fleet each Saturday.
Skiff moth Tempest - M Eggins
First NS14 in the Club - Torque Flight - W Searle

In 1964 a
Quickcat
belonging to Peter O'Sullivan was admitted to the club on a trial basis and soon a number of the boats of this class were sailing. For a time catamarans enjoyed immense popularity with the fleet being joined by Kittycats, Arrows, Hobies, Maricats, Calypso cats, A Class and Tornados. Catarmarans declined in popularity for some time but since 2012 numbers have started to pick again. Currently the club has Hobie 18's, Arrows, Cadets, and a Mosquito sailing regularly.
Hobie 18 'What tha' - skippered by club veteran Bill Holton
.

Also in 1964 the club moved to adopt a new junior training class - namely the Sabot. This class prospered and many (if not most) of our sailors enjoyed their first outings in these fine little boats. Many of the club's early Sabots were built by dedicated members. Of recent years fleet numbers declined and from 2011 the ageing Sabot fleet was gradually replaced with Open Bic's as our new junior class and club boats sold off. Sabots are no longer sailed at the club.

In 1993 Lasers were introduced to the club when Tony Smith purchased Rawhide. After languishing in the miscellaneous monohull division for some time, numbers suddenly boomed and Lasers are now a major component of our racing fleet.

Neil Burgess sailing a Laser
2011 saw the introduction of the Open Bic class as a junior training boat to replace the club's aging Sabot fleet. With 3 boats purchased initally and more planned, the Bic's are proving to be immensely popular with the club's younger sailors.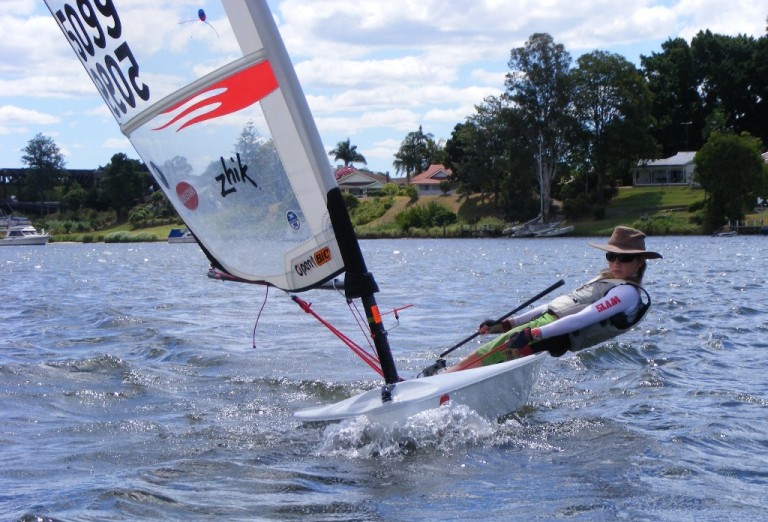 Open Bic being sailed by Morgen Parkin

No history is ever complete. More to follow as it happens.


Last Modified on 14/03/2018 00:05