Womens Sailing Group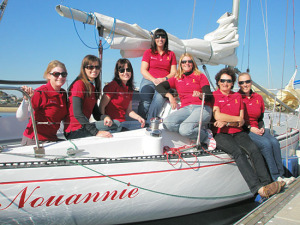 Royal Yacht Club of Victoria welcomes new members, and there are lots of opportunities for you to get involved - no matter what your level of experience. Whether you are a fully-fledged sailor, or just starting out, or even wanting to see what it is like on the water, there is something for you to enjoy. It doesn't have to be on the water either: there's plenty happening on dry land too!
Our Women's Sailing Group focuses on providing opportunities at Royals and around the bay and are always looking for new ways to get women into sailing.
Vision Statement
To encourage and mentor women in sailing and to develop a sense of community within the club which nurtures a life-long ambition to sail

To ensure women's interests are respected and represented on all major committees of RYCV.
Goals
Provide opportunities and encourage women to experience sailing

Develop well trained and competent women sailors

Work in collaboration with other Melbourne yacht clubs to promote and encourage participation in women's sailing

To inform and encourage women to attend training courses on offer.

If you are interested in crewing but don't have a boat to sail on, contact our office who will assist you in looking for an appropriate boat to crew on. The Club runs regular races every Wednesday (2pm or 6pm), Saturdays and alternate Sundays, or if you prefer cruising, the club's Cruising Group runs a monthly Sunday cruise. Check the sailing calendar to keep updated. There's bound to be something that tickles your fancy!
Thanks to the Yachting Victoria Women and Girls In Sailing (WGIS) Group and our great clubs in Port Phillip Bay, there are some excellent sailing opportunities specifically designed for women, in addition to regular options at our club. You can view these opportunties on our upcoming events page - keep an eye out for further oppotunities around the bay!
Yachting Victoria Developing Future Women Leaders Program
The Developing Future Women Leaders program has been designed specifically for Yachting Victoria to help women to develop and build on their leadership skills. The course is for those who want to develop their confidence in communication and presentation skills, their understanding of the power of body language, their assertiveness levels, management skills and professional image.
Our hope is that this program will facilitate more women stepping up into leadership roles or volunteering for committees. The tools they will learn and practice in this highly interactive program can be used in all areas of life.
Visit the WGIS Webpage for more information and for further dates to be released for this highly recommended course.
Learn to Sail



The Club offers many levels of training from introductory courses to keelboat crew racing. The courses are detailed in the Learn to Sail section of this site.
For further information and to book into any of our courses, contact Ian Fox, Training Manager at training@rycv.asn.au or by calling 0413 615 874.
Volunteer
RYCV could not survive without the dedication and hard work of volunteers. Races could not be run, committees could not govern and functions would not happen. Volunteers are the essence of any club and RYCV is no different. Get involved by contacting our office today!

If you have any suggestions or questions feel free get in touch with our current WGIS representative, Samantha Smith. For more information on how to get involved in women's sailing you can contact the office on (03) 9397 1277 or rycv@rycv.asn.au. We also have a RYCV Womens Sailing Facebook Group if you want to be kept in the loop about opportunities in our club.

You can also check out the Yachting Victoria Women and Girls in Sailing website. It is dedicated to you - female sailors and potential female sailors - to help you get sailing, enjoy sailing and keep sailing!