Sydney to Melbourne aboard Mika
by
by Eila Yarnall
Brian, Ciarin Mara, Ian McGrath and Robin Warlond left Royals on the 19th December to take the boat up to Sydney, they pulled into Eden overnight due to a strong northerly, otherwise it was a good trip up. They arrived on the 22nd to a wet welcome, leaving the boat at a private marina in Balmain and flew home. Thanks guys.
Brian, Steve and Karen Lanyon and I flew out on the 29th December and meet Marg and Ian Lloyd at Sydney airport. Once we were organised we headed up the hill to the main street and found a lovely Italian restaurant for dinner, a calm night so everyone slept well. Woke up to a sunny day, perfect to go for a sail around the harbour, work out where we should drop anchor for the following night, found a spot not too far away from where we were staying. Sailed onto Manly for lunch, a great Vietnamese café down a side street then a leisurely sail back to Balmain. Back up the hill for dinner, decisions decisions, found a fantastic Turkish restaurant called Efendy on Darling street; the food was amazing, as was the service.
New Year's Eve and time to go shopping for tonight's festivities, Mark and Merryn arrive early afternoon, we head off to our spot opposite Luna Park, the other side of the Opera House. A few attempts at setting the anchor and it's time for nibbles and drinks, a few more boats arrive but it's not crowded like we thought it would be. A bbq for dinner and settle in with music playing to wait for the fireworks. Between the 9.30 and midnight fireworks a group of tall ships with their rigging lit up sailed past, they looked like ghost ships. At 11.30 the wind direction changed to a slight north westerly which turned the boat around so that the cockpit was facing the bridge, we got to enjoy the brilliant display without having to move. A must do! Everyone should tick it off their bucket list.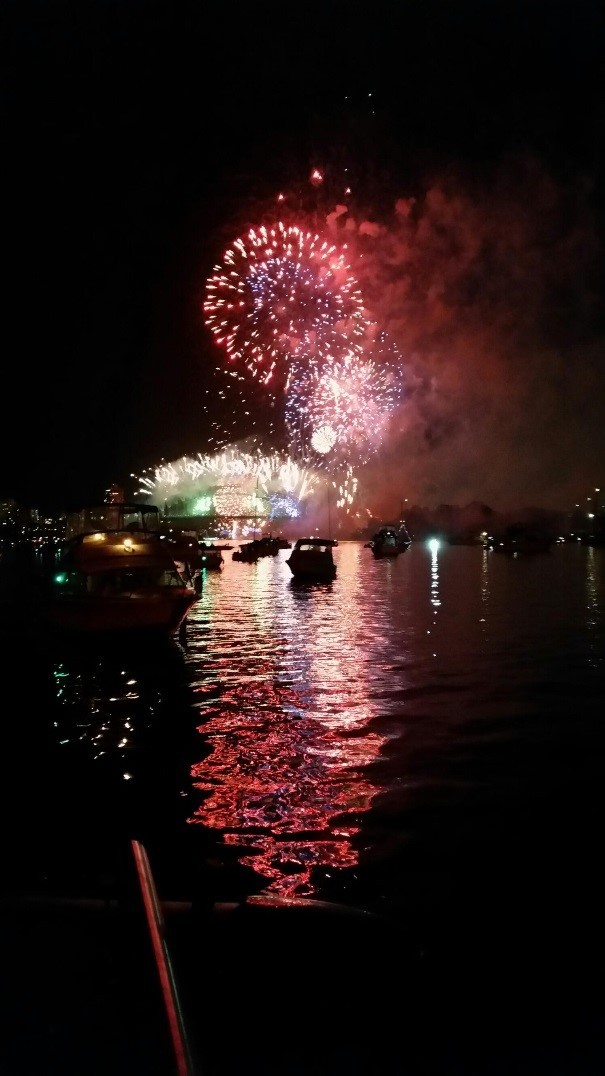 New Year's Day it's another beautiful day, breakfast on board and then we say goodbye to Marg and Ian, back home for them. Brian, Steve, Karen and I leave, next stop Pitt Water. A nice easy sail to the heads, turn left it takes 4 hours to get to Pitt Water, boats, boats and more boats. We have arranged a mooring at Royal Price Alfred Yacht, they have a tender service to get you to the club. How good is that? The place is busy as the Coffs Harbour race is staring the next day, a beautiful Yacht Club with everything that you could wish for. We leave on the 3rd to head to Refuge Bay which is only a short sail away. There are heaps of moorings and a nice waterfall in front of us, happy sailors. We take the tender and go exploring, next to Refuge Bay is America's Bay which also has moorings, nice part of the world. The next day we head to Brooklyn to have a look around and to get supplies. We find a nice little seafood café tucked away amongst the trees. Brooklyn also has fuel as well as a train station and only an hour from Sydney. Head back to Refuge Bay and pick up a mooring just as the rain starts, it rains all night. Still raining in the morning so it's a wet drop off and farewell to Steve and Karen at the train station. Back to Refuge Bay in the rain which doesn't stop for another 2 days. It finally stops and we can go exploring, head of up Cowans Creek which is 23 meters deep, stop to have lunch at the café at Cottage Point, also refuel. We explore for the rest of the day, up Smith's Creek and then back to Cowans Creek to pick up mooring at Waratah Bay, all the bays have a few public moorings in them. This place is like sailing through a forest, just need to keep an eye out for logs etc after the rain. A relaxing night on board.
Another lovely day to go exploring, walked up to a nice waterfall, there are plenty of them around thanks to the rain. Picked up a mooring at Winson Bay, after dinner decided to turn the motor on to charge the batteries. All good until Brian sees black smoke coming up from the campion way, he rushed down and I turn off the motor but neither one of us had a chance to see if there was still water coming out, so we don't know if the motor is cooked. Decided to leave it to cool down overnight, it will be fine in the morning, famous last words. Morning arrives, turn the key…nothing, try again…nothing, there is no wind so we can't attempt to sail. We radio Marine Rescue at Cottage Point, they arrive in about 20 minutes and tie up next to us. They take us to Bobbin Head, great service and a nice bunch of guys who are mostly volunteers. Off course its Saturday so no one is available to have a look at what the damage is, at least we are in the right place as everything is here, Marine Mechanic, Electrician, Shipwright etc. The only thing missing is a supermarket which is up the hill through the National Park, so you need a car or a taxi. Problem solved, Mark the manager offers to drive us, he waits and then drives us back, I thought that kind of thing only happened in Tasmania. We buy him a few drinks to say thank you. Since we are in a National Park we decide to go for a bush walk, 3 hours later we arrive back at the boat, a bit longer than we thought but well worth it, still can't believe that we are only an hour out of Sydney, feels like a million miles away. Monday… time to find out what the problem is, Craig the electrician arrives and finds the problem. The starter motor stayed in gear so it burnt out, YAY it's only a small thing, a new one is organised and put in place by the end of the day.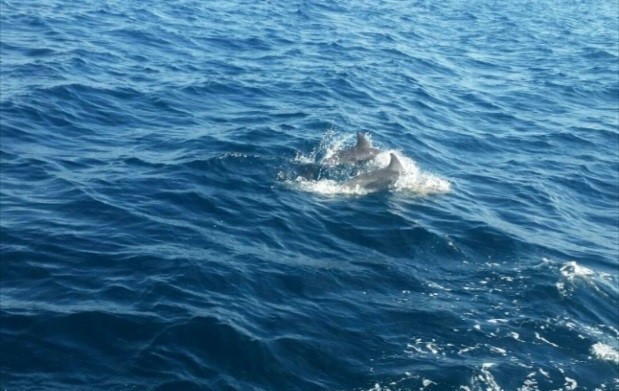 We head off on Wednesday to start the trip back home, first stop Wollongong, light northerly so it's a comfortable sail, arrive at 7.30pm and raft up against a fishing boat which we had organised on the way, a great place to be when there is a storm on its way, which arrives the following afternoon. We spend 3 nights safely tucked in, it's the first time in over 20 years that we have had no family to stay with as my brother moved a few years ago, feels strange.
Time to move on, wind is a South to SSE 15 to 20 knots with a 2mtr swell, heading to Jervis Bay, and the coastline is beautiful. We arrive at 4.30 and pick up yet another mooring at Darling Rd which is at the top left hand side, it's gorgeous with pure white sand and aqua coloured water, dinner and drinks in paradise. The following day we go for a walk along the beach, have a swim and then take the tender to have a look around, we end up seeing almost the whole Bay, wish we could stay longer.

Next stop Bermagui, again we raft up next to a fishing boat, nice spot with all new facilities, we have dinner at the pub, great fish and chips. Leave in the morning for Eden, the sun is out and just the right amount of wind. The day is almost perfect so we decide to skip Eden and continue onto Lakes Entrance. A nice sunset, dolphins saying hello, life's good. The night starts with a clear sky, as the night wears on it gets darker and darker until you can't tell the difference between the sky and the ocean, at least its flat…I still don't like night sailing. We take it in shifts and arrive outside Lakes at 6.30am, could have been earlier but Brian wanted to have day light to make sure there would be no issues, great leads, well dredged, up the cut and turn right to a floating pontoon, nice and easy. Once we are tied up its time to have a sleep.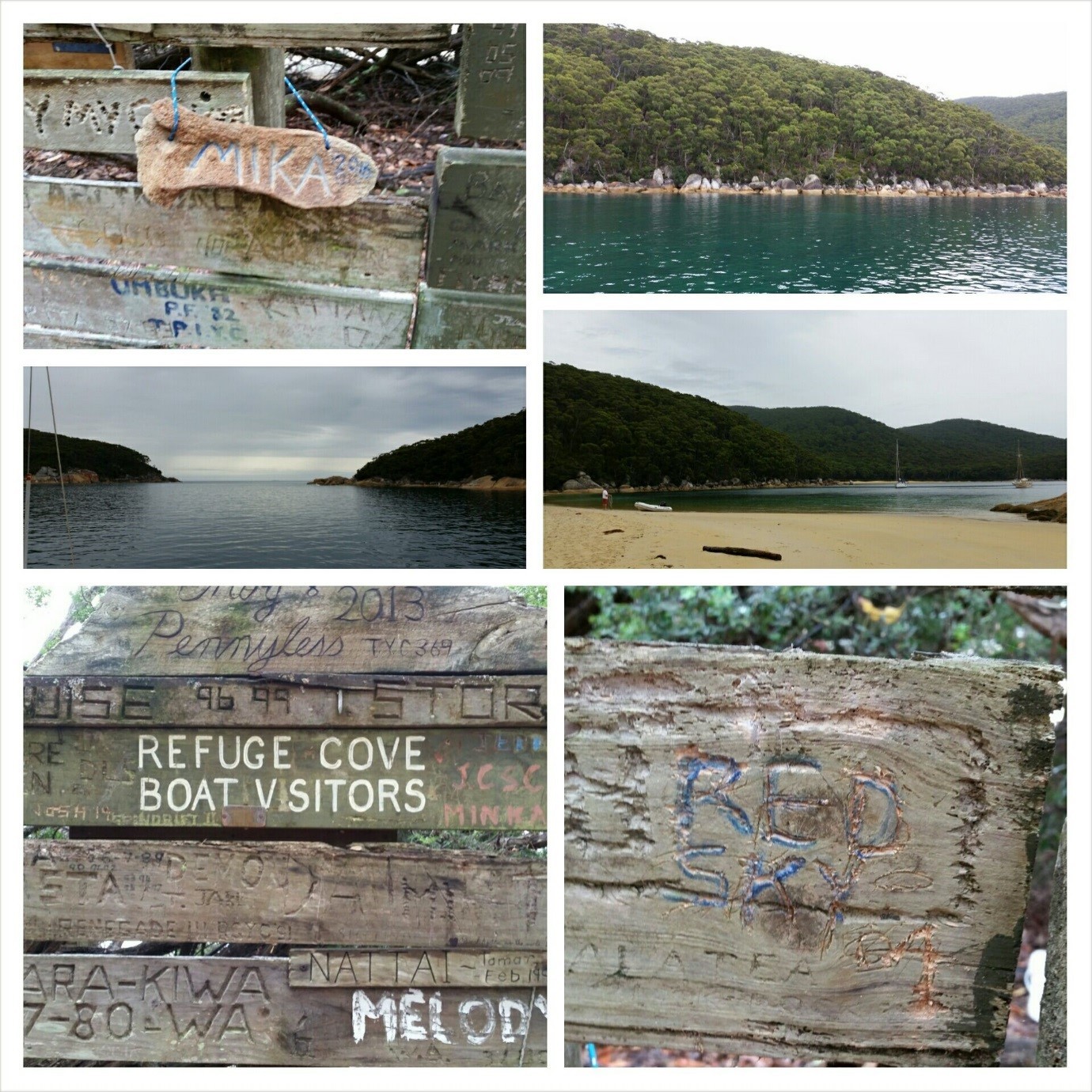 Early start for the long sail to Refuge Cove, it takes 14 hours and the weather is nothing like the Bureau of Meteorology predicted, not a happy sailor. We arrive and drop anchor and it's as nice as we remembered. The next day is overcast and drizzly, we head to shore to place a driftwood plaque for Mika on the boat wall and look for Red Sky's which we found. Headed back on board as it's no longer drizzle. The following morning we head off, destination Clevelands, once again it's completely opposite to what is on the Bureau's site, we bang into it for a few hours until we get past Skull Rock and then it settles down a little. Arrive and pick up one of the 4 public moorings, nice to be able to break up the trip. Sunday and it's onto Queenscliff, a pleasant sail and arrive early afternoon.
Home time, arrive at Royals in the afternoon. It's been a great trip, we purchased Mika to do a lot more cruising, so this trip is the start of many more to come, bonus we can do it two handed.
Last Modified on 19/02/2016 14:39